Eureka Springs Live Music in December
November has been so much fun! We got to participate in bringing the longest running Ozark Folk Festival back to life! Eureka hosted several shows indoors and out, the Basin Park Hotel hosted the Barefoot Ball, and the Next Festival OzMoMu gets to host the winner of the Singer Songwriter Competition, Skye Pollard!
In case you missed it we also announced our full lineup for Ozark Mountain Music Festival January 16 – 19, 2020!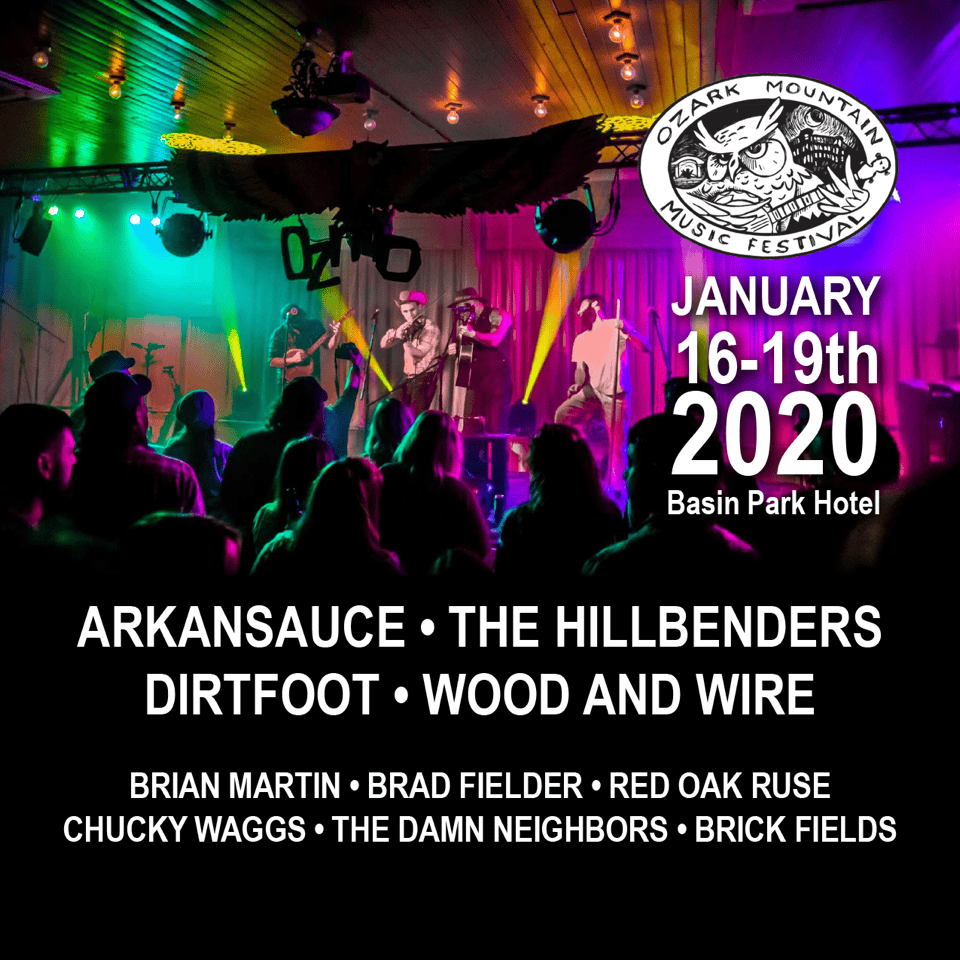 As we enter into the last month of this decade I hope you do it dancing. The Eureka Springs Christmas season brings with it a lot of music. The Eureka Springs Auditorium will be hosting the 17th annual John Two Hawks concert on December 7th. John Two Hawks is a Grammy and Emmy nominated Recording Artist, Speaker, Author and Activist.  For Tickets: https://www.johntwohawks.com/
The Aud is also scheduled to host some of our local favorites throughout the month including The Ozark Chorale Christmas Concert, Home for the Holidays, The Carrol County Music Group-"We've Got Talent" and Grady Nichols Falling in love with Christmas! For full calendar: https://theaud.org/events/
As usual Chelsea's has some of the best late night dancing shows to offer throughout the month including Fayetteville celebrities, The Juice and one of Oz's favorites, Dance Monkey Dance. He rocked the stage at OzMo 2016! For full Chelsea's Line up: https://www.chelseascafeeureka.com/event-calendar
As we all know the month ends with the celebration to bring in the New Year and Decade! Music can be found all over Eureka Springs on December 31st
Annie and the Fur Trappers will be ringing in the New Year at Chelsea's roaring 20's Party. Guaranteed to ring in the 20's dancing!
DJ Testube returns to BREWS for the 3rd annual FUNKY BREW YEAR celebration – an OLD SCHOOL FUNK and DISCO themed New Year's Eve Dance Party!
Best Western Inn of the Ozarks will be hosting an evening to remember with great food, great entertainment "Terri and the Executives" and fun with your friends and family. This year we will be doing a "Roaring 20s" theme. "Terri and the Executives" is a four piece band that plays classic rock, country, Blues and Pop. Be sure and bring your dancing shoes!
NEW YEARS EVE – FEATURED EVENT
I am happy to announce another production in the Basin Park Hotel…the new and improved Downtown Dance Party! We will be passing Champagne, light food and good tunes by Red Ambition! The collective energy, talent, and dedication of Red Ambition's five artists electrifies audiences. Two lead female vocalists and male lead vocals cover a huge variety of fun music that you know and love – no B sides here! We keep people of all ages engaged by playing tunes from the 60's to 2015 – R&B, Disco, 80's, 90's, and today's popular danceable hits.
Happy Holidays! Next time we will talk all about OzMoMu 2020!
 – Love Oz –