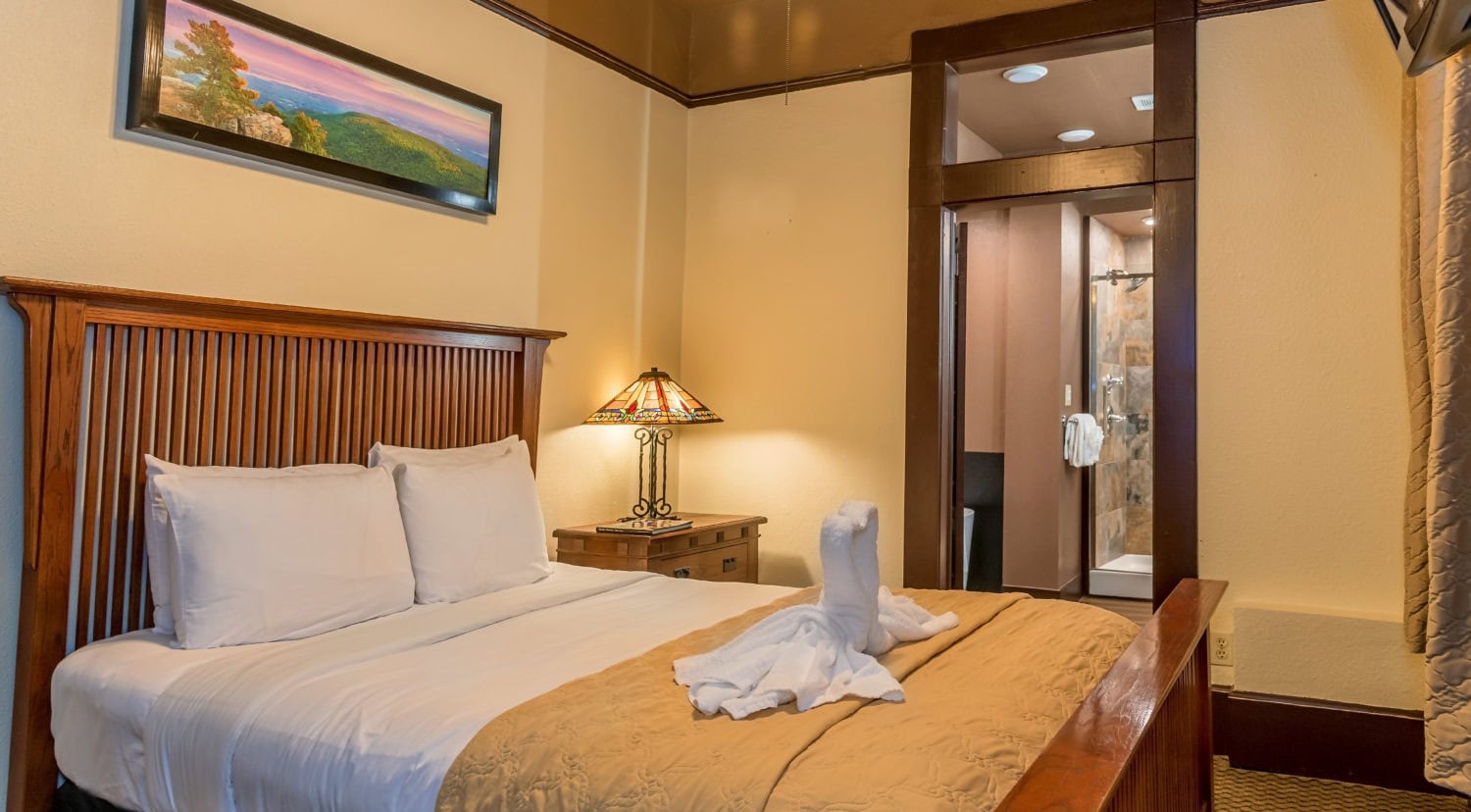 Sitting at the heart of Eureka Springs is Basin Spring. Overlooking Basin Spring and the surrounding park is the 1905 Basin Park Hotel. Situated in the center of downtown Eureka Springs… it is where the Most FUN Happens.
The "New" Basin Park Hotel" Has Reopened in Downtown Eureka Springs
Basin Park Hotel Re-opens after Brief Covid Shutdown
(Eureka Springs, Arkansas) – Everything that has happened in the past three months, all has not been bad for the Eureka Springs tourism industry.  With repurposed employees and construction teams allowed to continue to work, these past many weeks have seen great productivity as the Basin Park Hotel.  This landmark hotel has been diligently cleaned, painted and upgraded.  The result is the emergence of a "new" 1905 Basin Park Hotel focused around guest experiences, services and an upgraded quality of product.  The Basin Park, as the only 24-hour downtown property with bell service, shuttle service, a resort host, hotel security, a restaurant, a spa, two bars and guaranteed parking, can once again step into its century-old role as "the Centerpiece of Main Street Eureka Springs".
"Key to our redevelopment were such projects as deep cleaning, repainting and upgrading of our nightly lodging venues including the addition of several two-bedroom suites," explained General Manager Jack Moyer.  "These new suites offer not only a bedroom on either side but an expanded common area and the inclusion of a soaking tub and walk-in shower. It should be noted that the Basin Park Hotel now has 26 suites."
Moyer went on to explain additional completed hotel projects include the expansion of Spa1905.  Added were highly comfortable and sharply designed spa suites for guests who want to immerse themselves into the spa experience.  Guests who stay in a spa suite enjoy added service and amenities, exclusive outdoor hot tub access and are just footsteps away from the plethora of services and treatments that Spa1905 offers.  Located just outside the spa on the same floor is the magnificent new outdoor gathering space. This new spa deck sits aside a limestone bluff and includes an outdoor hot tub, fire pit and patio furnishings with only the sky overhead.           A totally new addition to Eureka Springs' downtown scene is Jack Rabbett's Whisky Bar offering the casual atmosphere of a living room featuring plush, comfortable seating; a fireplace; pool tables; and walls of big screen televisions.  This downtown getaway is located just down the hallway from the highly popular Balcony Restaurant & Bar, also being fully reintroduced, with its alfresco seating that overlooks downtown on one side and Basin Spring Park on the other.
"We have also added a resort host, seated in the lobby, to guide guests to everything fun and exciting to see and do in Eureka Springs plus introducing hotel guests to the new well-developed list of daily resort programming," added Moyer, "which includes such activities as whisky tastings in Jack Rabbett's, theater-style showing of movies, and a morning stretch on the roof.  Not many hotels around the country allow guests to welcome the day from their rooftop."
The paranormal aspect of the 1905 Basin Park Hotel has not been overlooked.  In development and soon to be offered to both hotel guests and visitors to Eureka Springs, is an experience that includes not only hearing hotel tales that occurred inside the limestone and pink dolomite walls of this historic structure but patrons will also be able to partake in a unique paranormal investigation that will extend "from the roof to the depths of the hidden cave".  Ticketing for this adventure is available through ReserveEureka.com.
Places to Stay in Downtown Eureka Springs
12 Spring Street, Eureka Springs, Arkansas
877.643.4972