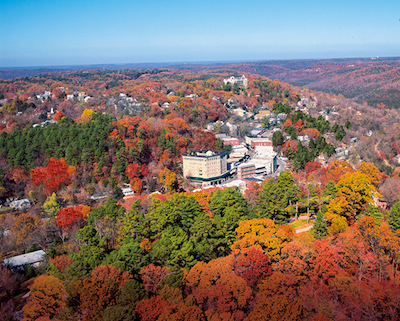 EUREKA SPRINGS FALL FOLIAGE CAMERAS ONLINE
(EUREKA SPRINGS, AR) – The Annual Monitoring of Fall Color has begun in the tourist destination of Eureka Springs. Two live stream foliage cameras are online.
High altitude hosts to the cameras  are the 1886 Crescent Hotel for a 180 degree view over the valley and the Crows Nest of The Basin Park Hotel for Downtown feel.  At Peak, Downtown Eureka Springs is expected to be Immersed in Color and Surrounded by Fun, as it serves its rightful role as the headquarters for fall travel to the Southern Region of the Ozark Mountains.
Live stream cameras are hosted on EurekaSpringsFallFoliage.com in partnership with EurekaSpringsOnline.com