"Christmas At the Crescent": This Holiday Tradition Continues
(Eureka Springs, Arkansas) – One of the most beloved annual holiday traditions in the Arkansas Ozarks returns to the 1886 Crescent Hotel & Spa.  "Christmas At the Crescent" will immerse hotel guests in the holiday spirit for eight days in 2020, December 4-11.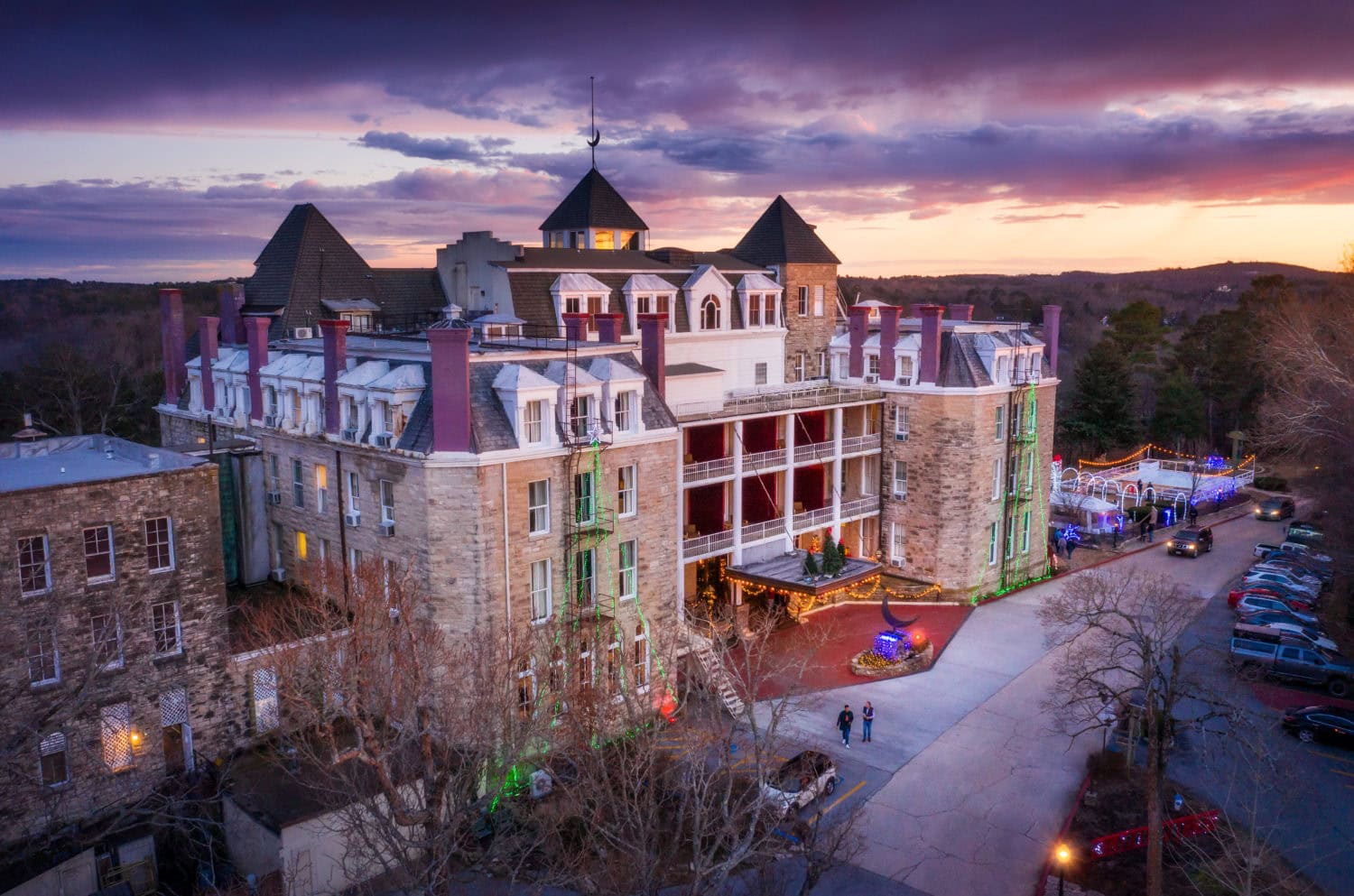 "This year's festive celebration will see a few new twists on tradition," explained Mary Howze, hotel activities director.  "Our list of activities and offerings have been expanded and some slightly redeveloped to embrace our unique 2020 year.  One such nuance will be at this year's 'Santa's Brunch'.  It will only be open to hotel guests; reservations required.  There will be no buffet, but plated meals will be served to tables. A masked Santa will not be on his throne but instead will visit the kids at their tables for candy cane distribution and photo opp."
Other celebration events include free ghost tours, holiday sleigh rides, holiday nightly turn downs featuring milk and cookies, nightly tree decorating with handmade ornaments, holiday shopping vouchers, holiday music during breakfasts, special deals on New Moon Spa & Resort gift cards, daily sales on various hotel souvenirs, weekend nights' campfire with s'mores, and an employee toy drive.
"The two newest and exciting distinctions for 2020 during 'Christmas At the Crescent' are totally unique to our mountaintop spa resort," Howze added.  "One will be that kids, under the age of five who stay overnight with their parents or grandparents, will receive a free 'Hank, The Ghost' stuffed doll.  But the hottest addition will be the opening of our New Moon Spa 'hot pool'.
"Similar to a ski resort in the Alps, this winter the hotel swimming pool will transition into a Hot Pool rising to around 95 degrees for a warm soak on even the chilliest of nights.  The hot pool is the perfect enhancement to the relaxation offering already available through the New Moon Spa's hot tub and infrared sauna.  These resort activities will be available from 4 p.m. to 7 p.m. throughout the celebration week."
Of course, this Historic Hotel of America will once again be the most glittering collection of both interior and exterior decorations and lights in all of Eureka Springs.  Guests will enjoy elegant Victorian-style Christmas decorations throughout the hotel.  When guests step outside the hotel, they will be awed by huge, artistic, illuminated displays adorning the hotel's Fountain Garden.  The hotel's East Lawn's Christmas Forest will again feature more than 30 sparkling, uniquely decorated evergreen trees.  Both displays provide guests the perfect setting for evening strolls to capture those "you just gotta share" yule photos.
The highly popular regular resort activities of the Crescent will continue during these special holiday days.  One of the most popular is the hatchet throwing along with other outdoor games and hammock-style swings in the hotel's Frisco Sporting Club.
"What a great way to start this year's holiday season," Howze concluded.  "Since we often sell out during this holiday event, we hope our patrons will make their reservations early.  'Christmas At the Crescent' is our way of saying 'season's greetings' to our loyal and very much appreciated guests."
For more information, go to ChristmasAtTheCrescent.com.