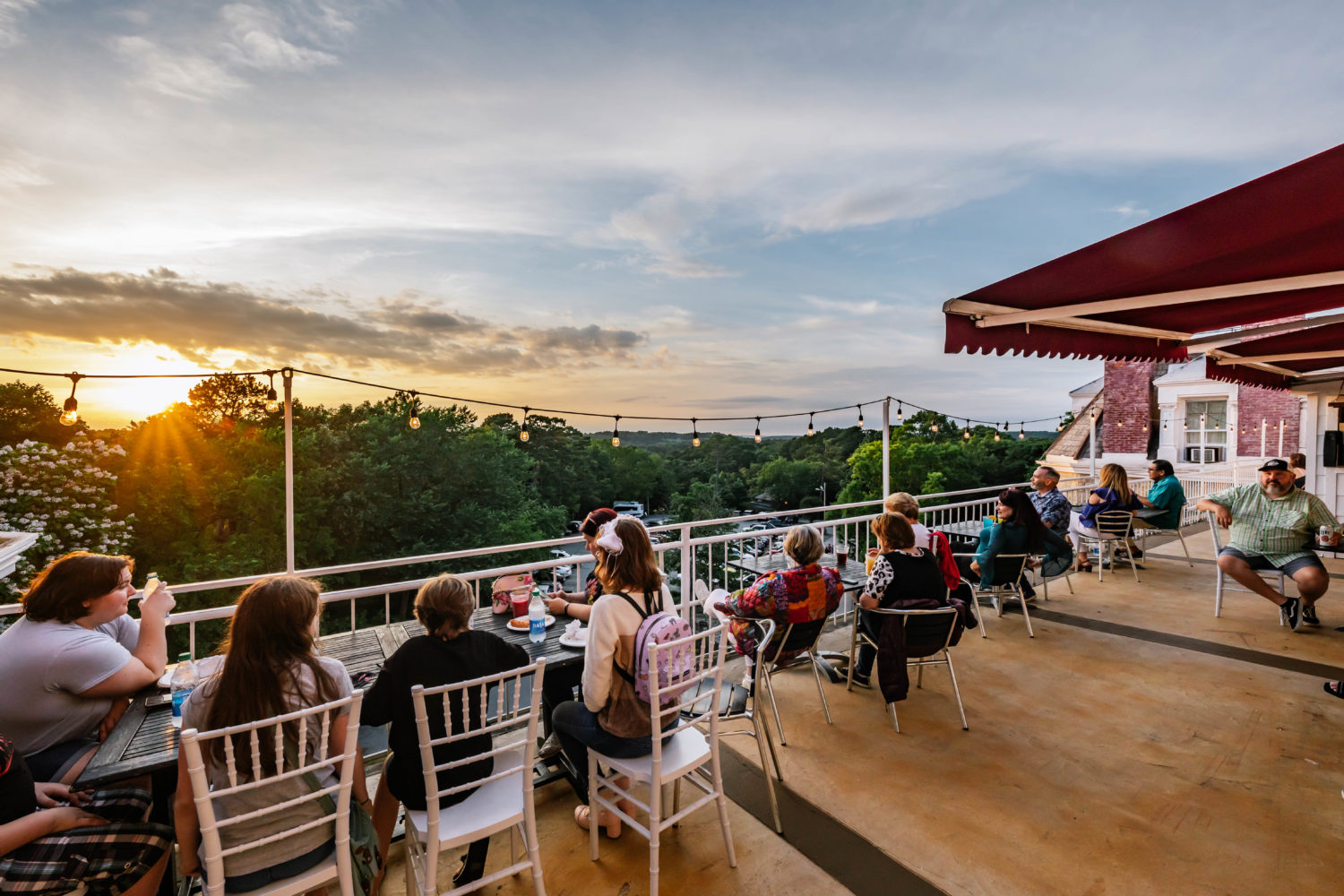 Eureka Springs, Arkansas Fall Hikes, Ozark Mountain Drives, Arkansas Festivals, Crescent Hotel Events
From stunning Ozark Mountain Fall foliage to seasonal festivals, you won't want to miss out on a trip to the Ozark Mountains this fall season.  Hiking, Riding or just enjoy the many Fall activities.
Perfect Hiking Weather
One of the most magical aspects of fall is the stunning blend of colors that trees criss-cross the hillsides both in town and off the beaten path. What better way to get up close and personal with nature than a fall hike?
The Leatherwood Loop Trail stretches 4.2 miles in length and leads you around the stunning Lake Leatherwood. If you're interested in a full day of hiking, Lake Leatherwood Park has many fabulous interwoven trails such as the Beacham Trail, which connects to the Leatherwood Loop. Take a look at the Lake Leatherwood map to see all of the park trails!
For a short and sweet hike, head to the Black Bass Lake Trail. Enjoy views of Black Bass Lake which is surrounded by stunning bluffs and towering pines. One of the most scenic trails in Eureka Springs, We suggest packing a picnic and enjoying it at the picnic table area near the entrance to the hike!
The Kings River Overlook Trail is a short, easy hike to a spectacular view.  The trailhead is a bit of a challenge to get to, but once there, the trail is just a short out-and-back trail to get the scenery.
Winding Mountain Drives
The winding mountain roads in the fall are absolutely stunning.
EurekaSpringsMotorcyclerides.com has identified great rides for those on two wheels; which also work perfect for those looking for fall foliage routes
Here are Eight Great Fall Foliage Routes
A Great Drive – A Memorable Experience:
Head south and travel to the Buffalo River Region and visit  Ponca.  It's rut season for the elk and as fall air temps cool, the bulls begin bugling which makes for great wildlife watching opportunities.
Fall Festivals & Events in Eureka Springs

If you're looking for other reasons to come to Eureka Springs this fall, our events calendar is packed with several great ideas:
50th Annual Antique Autos in the Ozarks
Corvette Weekend
Hillberry Music Festival
War Eagle Mill Craft Fair
Voices From the Silent City Cemetery Tours
74th Annual Original Ozark Folk Festival
Guests of the Historic Hotels Enjoy More Fall Events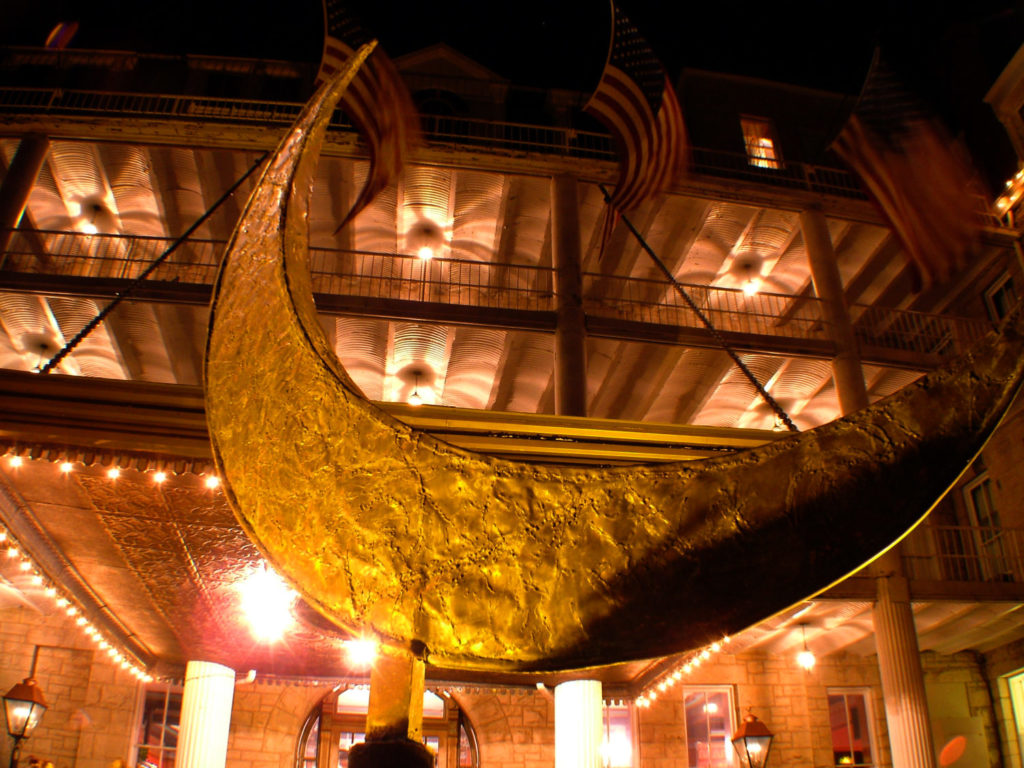 Crescent Hotel Fall Activities include:
"Music Under the Crescent Moon" (evening lawn concert series)
 Crescent Hotel Fall Fest
Oktoberfest Craft Beer Tasting
War Eagle Breakfast Buffet
"Shot of the Day" Red Ryder BB Gun
Campout with Kids (Campfire songs, ghost stories, smores, more)
Fall Farmers Market Tour
360* fall foliage Private access to the roof
Fall Family Photo Op
Basin Park Hotel Fall Activities include:
JR's Game Room to Host Arkansas & OU Football Parties
Cider Tastings and Apple Bobbing
Ballroom Bingo
Brisk Morning Walks to the Farmers Market
StarGazing from the Crows Nest
Do It Yourself Downtown
Nearby Outdoor Adventures
Get up close to the show of colors with a zip-lining experience at Ozark Mountain Ziplines. You'll zip through the hardwood forest from up to 300+ feet high. View the trees and limestone cliffs on an exhilarating ride.
Dogwood Canyon stretches over 10,000 acres on the Missouri-Arkansas border. You'll find exceptional views of the Ozark Mountains while hiking, fishing, taking a Segway tour, biking, horseback riding, or a wildlife tram tour
Blue Spring Heritage Center is considered a sacred space by multiple Native American tribes, the springs circulate 38 million (yep, you read that right!) gallons of water each day. Feeding trout from the dock, circling through the medicinal gardens, and exploring the shelter bluff create the environment for tranquility.

Eureka Springs transforms into a magical place in the fall covered with vibrant colors and cooler temperatures.
For Places to Stay in Eureka Springs, Arkansas
For Travel Deals, Foliage trackers and web cameras visit the authority site for the Eureka Springs Region.  Eureka Springs Fall Foliage .