Skip the Lines and Have Good Times
Does it sometimes feel like you're spending most of your family vacation standing in line waiting for your turn? Well step out of that line and have a good time and experience all the hassle-free fun things to do in our beautiful Ozark Mountain town of Eureka Springs, Arkansas!
Looking for a Full Guide to Exploring Eureka Springs with Kids?
Plan your next family getaway to Eureka Springs and unlock a world of endless laughter and cherished memories. Find family-friendly things to do, places to stay, restaurants, and coupons!
---
Here are just a few of the many wonderful and exciting memory making adventures that await you and your family in our stress free lil' mountain town of Eureka Springs, Arkansas:
Just south of Eureka Springs on 459 acres is home to a variety of exotic and native animals, Turpentine Creek Wildlife Refuge is one of America's most beloved and respected big cat sanctuaries. Providing compassionate care and lifetime refuge to survivors of the exotic animal trade, this nonprofit is a Northwest Arkansas "Top 10" attraction and one of the most popular in Eureka Springs. Enjoy educational daily tours or experience Africa in the Ozarks in one of their unique lodging accommodations.  Follow them on social media for regular updates, photos, videos and more!
Experience the exhilarating thrill of a zip line canopy tour right in the heart of the beautiful, pristine Ozark Mountains at Eureka Springs, Arkansas. You'll go soaring through the air from up to 300+ feet high with cable lengths from up to 2000 feet long over vast gorgeous, beautiful Ozark hardwood trees and limestone cliffs. Experience 10 cables and one swinging bridge. 
These exciting ziplines offer the highest degree of safety while providing large or small groups, families, and private parties an exhilarating outdoor fun & safe adventure. This expert staff will operate and deliver 2 hours of fun per tour for any persons 3 years of age or older.  
No wooden towers here! All natural and minimal hiking on clear cut trails finishing up at the bottom of the gorge where an air-conditioned bus is waiting with smiling faces to take you back to the welcome center just minutes away. 
1610 beautiful acres of peaceful Ozark mountain countryside with something for everyone to enjoy. An 85 acre lake to swim, fish, paddle & gaze upon. 20+miles of maintained trails to hike or cycle. 199 bird species to watch from the bird blind. Fields for baseball & soccer. Cabins & camping for rest & renewal. Walk the dog, let the kid's run, take a hike, join a pick-up game, throw out a line, pack a picnic, fly a kite . . .what are you waiting for ~ Lake Leatherwood City Park is here for YOU!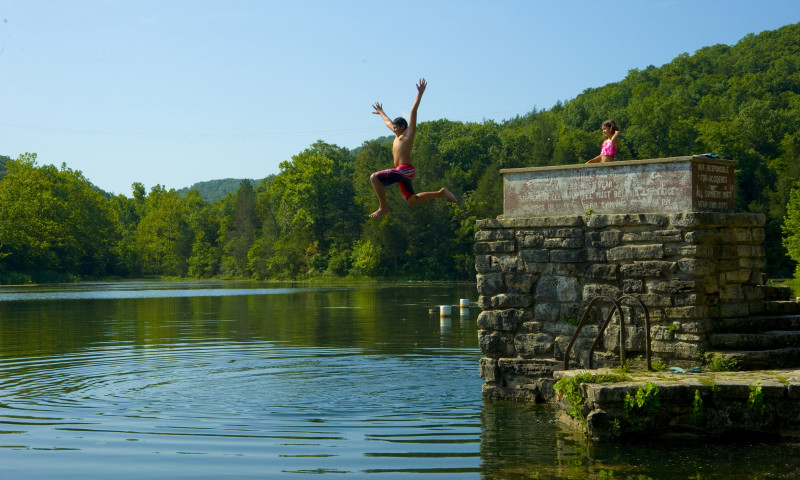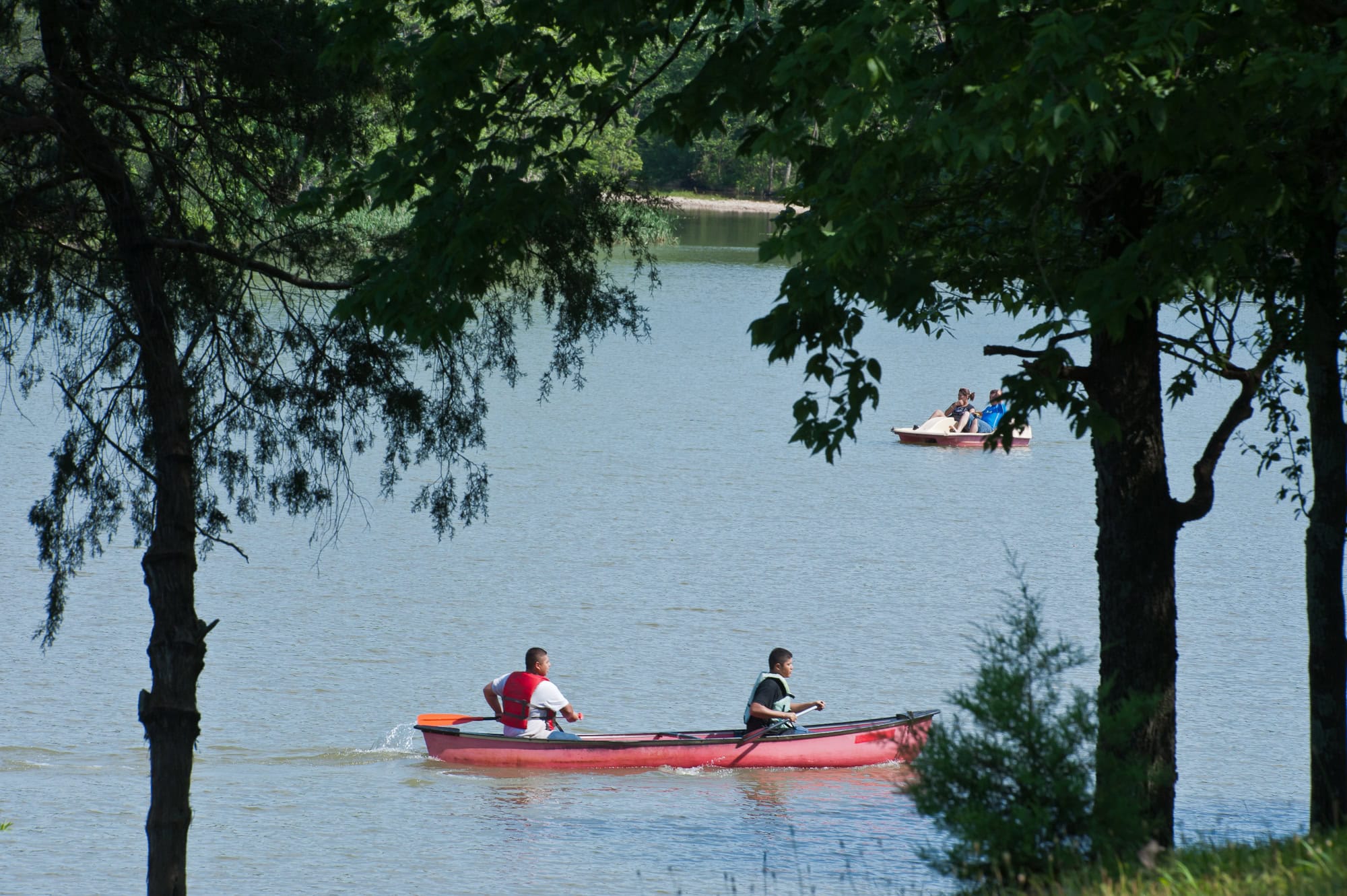 Canoeing, paddle boating and so much more at Lake Leatherwood City Park.
What is the #1 Attraction in Eureka Springs? Downtown Eureka Springs!  With shopping, dining, nightlife and much more, strolling down Spring and Main Streets will create the perfect backdrop to your vacation.
Take a leisurely walk on Main Street and explore unique shops, dine underground, have lunch, take a carriage ride, or explore the history with the Downtown Walking Tours. People watch in Basin Spring Park and see where the town was founded or see what life was like in the 1900's with a visit to the Historical Eureka Springs Museum and focus on the Springs of Eureka Springs.
Continue up to the Award Winning Spring Street visiting art galleries, boutiques and dining in local favorites that are open all year round. Whether you are shopping for your favorite pup, gourmet foods, or something to remember your trip by Downtown Eureka Springs offers spectacular shopping.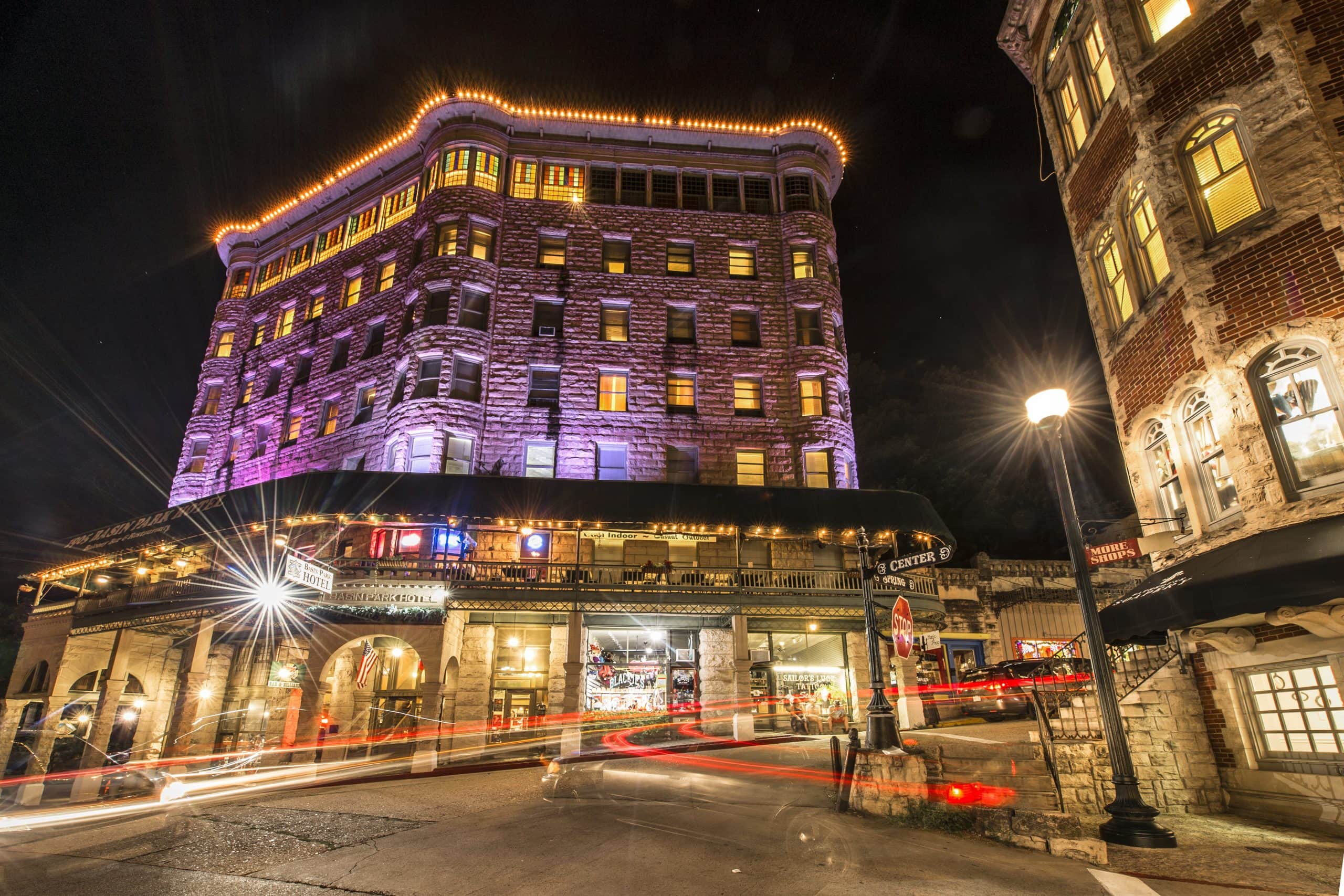 The jewel of Downtown Eureka Springs, Arkansas. The historic 1905 Basin Park Hotel.
Stay Downtown
Nothing is more fun than being in walking distance to all of the fun in Eureka Springs! Downtown offers a variety of lodging from historic properties like the Basin Park Hotel, luxury properties, cottages and cabins, Bed and Breakfasts, and even tree houses! There is something for every visitor!
No Visit to Eureka Springs is complete without time in Downtown Eureka Springs.
Check out this great deal! 
The thrill of the ride! Eureka Springs has trails for the expert and the novice alike!
Eureka Springs with its ever growing Trail system now includes the most spectacular downhill biking course on the OzTraisl System.  Miles and miles of family friendly biking can be found at Lake Leatherwood, The Grounds of the Great Passion Play and throughout the In-City Trail system
visit www.bikeeurekasprings.com to find your ride
New ghostly discovery at The 1886 Crescent Hotel
On February 5, 2019, while working to extend a parking pad at the north end of the 1886 Crescent Hotel, a chance discovery was made by the hotel's landscape gardener, Susan Benson.  There in that first scoop of dirt were a couple strange, medical-looking bottles.  Knowing part of the hotel's history that it was once a "cancer curing hospital" in the late 1930s, Benson called the hotel's ghost tour manager, Keith Scales.  Upon his arrival, Scales realized the bottles he was looking at were identical to those that appeared on an advertising poster of the late Norman Baker, the charlatan who operated the hospital.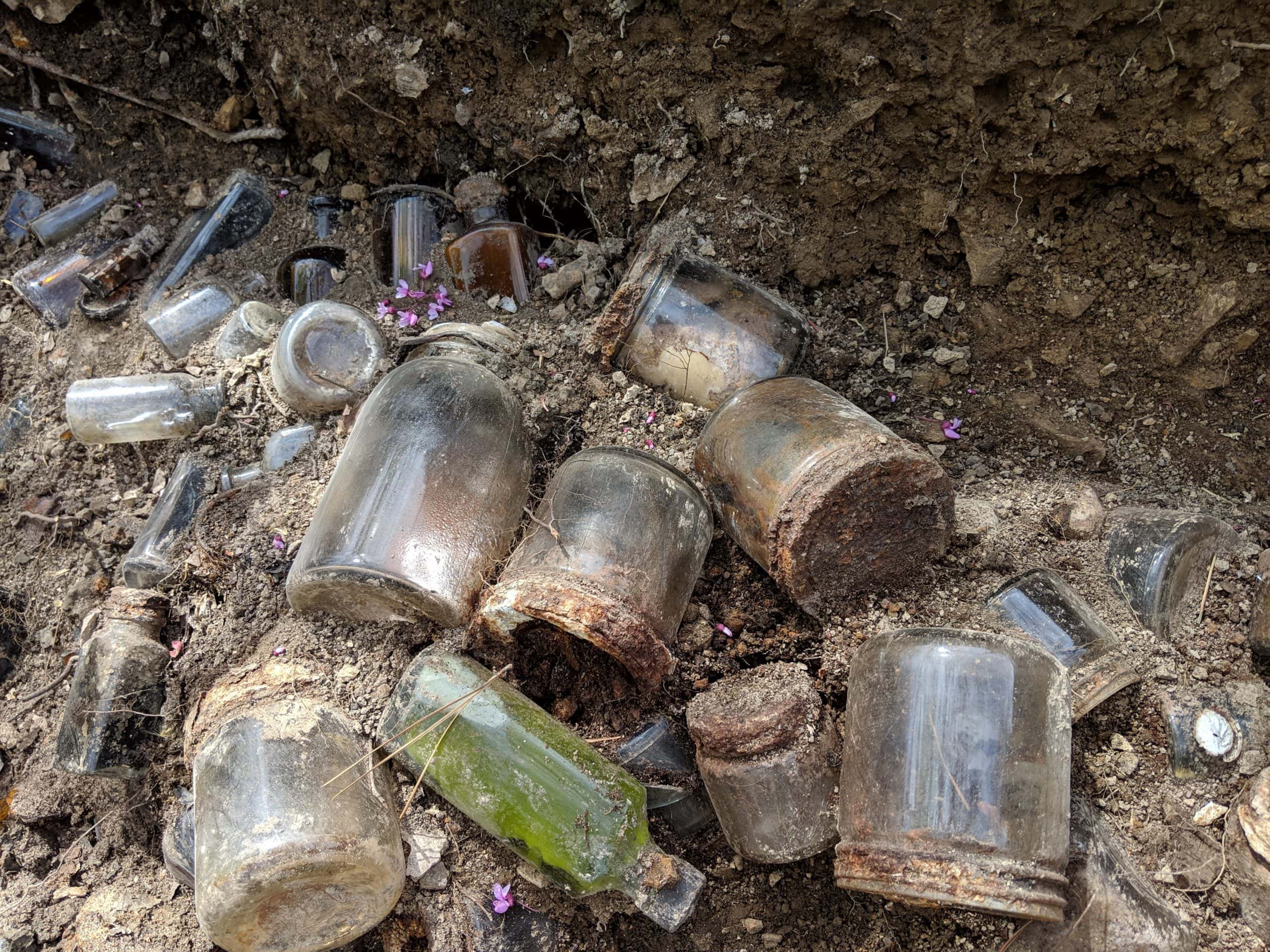 Human organs found preserved at the Crescent Hotel! Things just got a little more haunted here!
On April 9, 2019, team members of the Arkansas Archeology Survey, part of the University of Arkansas system, arrived from the nearby Fayetteville campus, to begin their meticulous study.  They began to carefully peel back layers of dirt and rock.  Cutting root clusters as needed, the "find" was slowly uncovered.
All the folklore, all the hair-raising stories, all the rumors were now proving to be true with each and every bottle, medical specimen jar, gruesome surgical tool, etc. as they arose from their 80-year-old grave.  Physical remnants of Baker's Cancer Curable Hospital could now be seen, studied and displayed.  The discovery echoed throughout the United States thanks to such news outlets as Arkansas Democrat-Gazette, CNN, and Newsweek, to name just a few.
Ghost Tours are offered nightly at The 1886 Crescent Hotel "The Most Haunted Hotel in America" beginning at 8.00 pm. Your professional, colorful costumed guides will take you through the Crescent Hotel pointing out the most active areas and telling you the stories behind the sightings that have been reported over many generations. The tour ends in the highly active morgue – legacy of the notorious Norman Baker "Cancer Curable" Hospital. After the tour the guides will be happy to share their extensive knowledge of the hotel and Eureka Springs with those who have questions. Meet your guide and fellow guests 10-15 minutes before your tour at the Faculty Lounge on the fourth floor. $22.50 for adults, under 13 $8.00.
Tickets may be purchased at the Front Desk or (advised) in advance through:
Check out this great deal!
Ghost Hunt at the 1905 Basin Park Hotel
Since they started to incorporate a ghost hunt into their tours, reports of paranormal activity in certain areas of the building a have multiplied. Is it because more people are now searching for evidence of the supernatural, or are more investigations encouraging invisible friends to reach back to folks from the other side? 
Join the fun for the Adventour and become a paranormal investigator for a day! This is a unique experiment in otherworldly crowd-source data-collection.  You can help to garner evidence of paranormal activity at the historic 1905 Basin park Hotel.
Start the evening with an informal gathering of investigators in the Lucky 7 Bar. Your journey begins with an exclusive visit to the roof, where photo-ops from the tallest building in old town Eureka Springs make for "lifetime memories."
As a preliminary to the main event your guide will recount the stories of ghostly activity in the building that have been handed down over generations,  and introduce you  to a few characters from the colorful history of Eureka Springs whose lives were bound up with the Basin park hotel and are very likely to be still present – in some form!
Then you will be given the tools to investigate the most active areas for yourself – these include the Barefoot Ballroom, the notorious third floor and the underground cave.
Your experiences, photographs and other evidence will be recorded and documented on our websites and Facebook pages. In this way you will help us build an archive of supernatural occurrences in the Basin Park Hotel – testimonials that will be read by guests at the hotel for years to come.
ADVENTOURS are offered every Friday and Saturday evening at 8.00 p.m. 
$15.00 adults;  under 13 $8.00
Tickets may be purchased at the Front Desk or (advised) in advance through
Looking for some good old wholesome family fun? There is no shortage of entertainment for the entire family when you come to Eureka Springs, Arkansas' Premier Family Fun Center. Pig Trail Kart N' Golf offers you the very best in entertainment and wholesome clean family fun. With two Putt Putt Courses, a multi-level Go Kart track, indoor Arcade and Play Center and Batting Cages, there is something for everyone to enjoy. Good times and lifetime memories await you!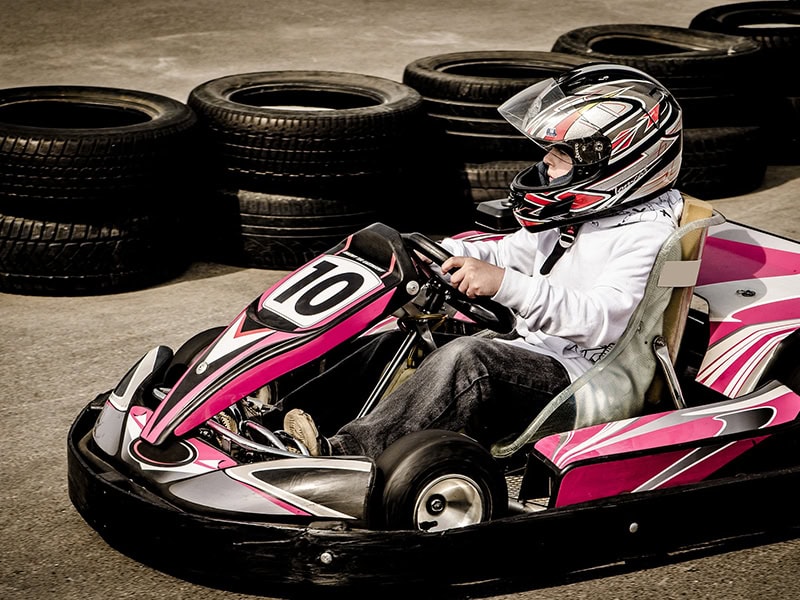 If you're looking for an activity the whole family will enjoy, check out an afternoon at Onyx Cave Eureka Springs.  Known as the oldest show cave in Arkansas, visitors have been flocking to this unique attraction since it was discovered in 1893.  Onyx Cave can be found just six miles from Eureka Springs on Onyx Cave Lane.  
Each person entering the cave will receive a pair of radio headphones to wear during the tour.  Tours are all self-guided and last around 30-minutes.  The Onyx Cave is a great outing for little children as the tour can be as quick or as long as you like.  The cave offers easy access to the ramps but there are stairs that lead to the gift shop.  No strollers or pets are permitted inside the cave.
The Onyx Cave remains at a cool temperature of 57 degrees year-round.  The underground formations consist of natural flowstone known as cave onyx.  A few of the chambers that can be seen on the tour include the Witches Fireplace and the Friendly Dragon.
 Adults ages 13 and up are admitted for $7.50, children are $3.50 and ages 3 and under are admitted free.  On your way out of the cave, take a browse through the cave Gift Shop featuring jewelry, rocks, and Onyx gift items.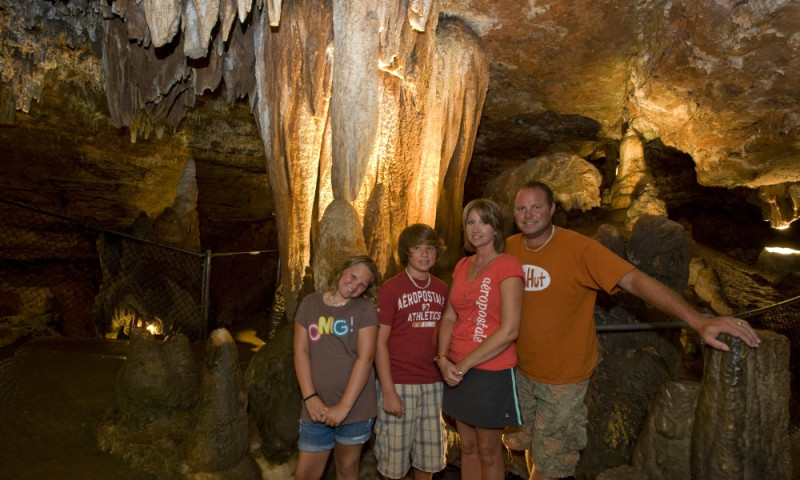 Experience gravity gone wrong! Water and balls roll uphill, people walk at strange angles and appear to grow taller
and shorter, depending on where they stand! Years ago, moonshiners operated in the cavern – it was perfect for making the "Devil's Brew" – in fact, the cove of Beaver Lake where the cavern is located is still referred to as "Devil's Gap". Years after the cavern was opened for public tours, remnants of a still was found in the cavern, and remains of what must have been a shack was discovered on the hillside. Local lore has it that the good ole boys would stay in this shack while making their "White Lightning" inside the cavern. Building from the foundations remaining, it was soon discovered that gravity had gone wrong. Was it because of the huge cavern just below pulling it in? Is there some kind of vortex? Or was there just too much moonshine involved in the construction? Experience it yourself! See how water flows uphill, balls roll uphill, people walk at strange angles and seem to grow taller and shorter!
 Expect to be totally confused as the laws of gravity seem to no longer apply!
Whether you are planning your family vacation or just a fun weekend adventure, War Eagle Cavern offers hours of affordable family fun. Located half-way between Eureka Springs and Rogers, Arkansas.
We are: stroller-accessible, pet friendly, and have limited handicap accessibility.
Cosmic Cavern in Berryville, Arkansas is one of the states' most beautiful natural attractions! When you are in Northwest Arkansas or the Berryville area and are looking for "things to do" or "attractions" Cosmic Cavern is a "must see" destination. We are easy to find, right between Eureka Springs, Arkansas and Branson, Missouri. Cosmic Cavern is Arkansas's largest privately owned show cave. Cosmic Cavern was discovered in 1845, but wasn't developed until 1927. Cosmic Cavern's cave tour is approximately a 1hr and 15 minute walking tour in the warmest cave in the Ozarks, at a steady 64 degrees and 96% humidity. The cave is a warm 64 degrees in the winter and a cool 64 degrees in the summer. It is the perfect temperature no matter what season of the year you choose to vist! The cave features a 9 foot soda straw, the longest known in the Ozarks, and 2 bottomless cave lakes. The first lake, South Lake, has had trout in it for nearly 50 years. Some of the trout have gone blind and most have lost their color. One of the lakes was discovered in 1993 in the "Silent Splendor" section which made national news. This was Arkansas' most delicate discovery. The bottom or end of these lakes has yet to be found. The newly discovered area, "Silent Splendor" is hailed as a must see attraction in Arkansas. It is so pristine and untouched that many of the beautiful formations are transparent.
It's time to bring a little nostalgia back into your lives, along with a lot of convenience: Ride a Trolley. It's easy…it's inexpensive…reservations are not necessary…and you can catch a trolley at any one of the 130 stops located in town.
To make it even easier getting around, they've color-coded the routes. Just look for the colored pennant flying from the front bumper and the matching banner on the side. And in addition to the trolleys, they have a couple of mini-buses to back up their fleet. They can be used just like the trolleys.
These fun trolleys cover every area of town: to the west on Highway 62 as far as the Razorback Gift Shop (and to Thorncrown Chapeland Lake Leatherwood City Park until 4 pm most days between April and October); north on Highway 23 (also known as Main Street in town) to the Eureka Springs North Arkansas Railroad; East on Highway 62 to the Alpen Dorf Motel turn-around and North on Passion Play Road to the entrance of the Great Passion Play. The most popular is the Red Route that will take you throughout the largest historic district in Arkansas, the heart of Eureka Springs and will even drop you in front of the iconic Crescent Hotel!
See a different side of Eureka from one of our open-air trams. Each narrated tour lasts approximately 85 minutes and has 2 stops, the 1886 Crescent Hotel and one of our lovely springs, Grotto Spring.
Tours start at and return to the
Eureka Springs Transit & Welcome Center
(Trolley Stop #1)
137 W. Van Buren (Hwy. 62W) They

are 1/4 mile west of the intersection of Highway 62 and
Highway 23N (also known as Main Street)
Experience the intrigue of spending an evening with a world class illusionist and a medium. Even the most hardened cynics are amazed  by what they encounter at Intrigue Theater. 
Prepare to be amazed at The Intrigue Theater!
The 19th century began the Golden Age of Magic as captured in films like The Illusionist and The Prestige. This time honored and closely guarded craft has been kept alive by the most dedicated of performers. Intrigue Theater features nationally acclaimed illusionist Sean-Paul and medium Juliana Fay  performing in an elegant and elaborate setting in the mysterious Gavioli Theater that pays homage to that magical Golden Era. 
Don't miss this dazzling trip back in time that blends science, mystery, illusion, and spiritualism into one spectacular theatrical performance that will blow your mind! Family friendly shows are held in an historic building which can seat 100 guests at a time. This ensures each guest has an up close view but it also means that tickets sell out quickly.
Tickets available at:
The BIG water is here in Eureka Springs.  The local Eureka Springs Marina is Starkey Marina and is an ideal place to launch or rent boats.  www.eurekaspringsmarina.com
Life is good on Beaver Lake. Summer fun in Northwest Arkansas!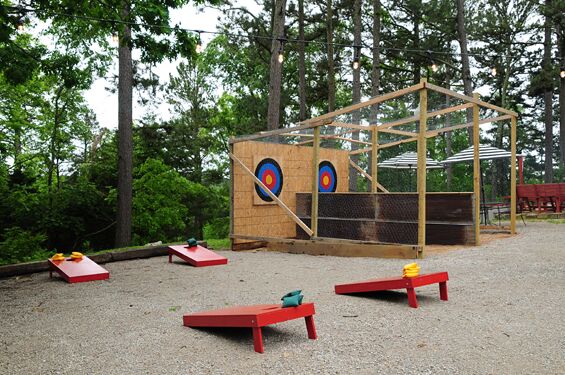 Summer Fun at The 1886 Crescent Hotel includes its newest venue – THE FRISCO SPORTING CLUB.  Celebrate the start of the Weekend with Friday Night Fun  that includes Free BBQ and Activities.  See all the Resort Programs included with a stay at the Crescent Hotel
Find the Best Family Vacation Deals – Click Here