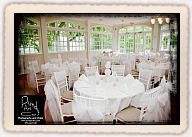 The Crescent Conservatory
A white dress can be accented with pearls, lace and even shiny stones but nothing accents a white wedding dress like pure light. Surrounded by windows overlooking the manicured gardens of Crescent Park, the Crescent Conservatory dances with light. Natural light waltzes in through large conservatory windows. Elegant white walls skillfully frame and reflect it and delicate crystal chandeliers guide it through graceful turns.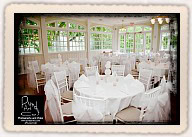 The Crescent Conservatory is a popular wedding ceremony and reception venue in Eureka Springs, the Wedding Capital of the South. Couples who choose to hold their wedding ceremony in the Crescent Conservatory often hold their reception on the adjoining Boardwarlk and Gazebo overlooking Crescent Park. The Crescent Conservatory is also a popular wedding reception venue for couples who are planning to be married in the Fountain Garden, Thorncrown Chapel or other Eureka Springs wedding ceremony locations.
The Crescent Conservatory is located in the famous 1886 Crescent Hotel & Spa. The Crescent Hotel is a prestigious member of Historic Hotels of America and is a preferred wedding venue in the Wedding Capital of the South.
Contact a Eureka Springs Wedding professional today by calling 800.903.4940.