Autumn in the Ozark Mountains has arrived!
Nothing compares to late autumn in Eureka Springs! Between seasonal festivals, amazing weather, and stunning fall foliage, an autumnal visit to the Ozarks is a must on any traveler's fall bucket list. Spend a few days in Eureka Springs, soaking up the beauty and magic of the season. Once you've experienced it, you'll want to return every fall. 
LEAF PEEPERS
Colors are Exploding in the Ozarks in Late October and Early November.  See the Eureka Springs Fall Foliage Web Cam
There's no doubt you'll get the best leaf-peeping views from atop a nearby peak while hiking or biking around our many miles of trails at Lake Leatherwood City Park or the Great Passion Play.  Or maybe you'd prefer to slow down and enjoy a casual stroll with extraordinary scenery right in town.  Dont forget to leave time for  a scenic drive through the winding Ozark mountain roads, stopping to soak in the dramatic vistas unfolding before you. Many of the area's scenic byways are incredible during the fall, stopping along the way at the likes War Eagle Mill or in the Buffalo River Region.
WHEN THE LEAVES COME DOWN THE EVENTS COME ALIVE
Diversity Weekend kicks off the month followed by the 75th Annual Folk Festival, The Autmn GetTogether and then Thanksgiving Weekend and all things Holidays.
Eureka Springs Diversity Weekend.  November
Eureka Springs Folk Festival  T
---
– Sunday November 13 – Sunday November 20th
Meet people who share your love of live music and the wonderful outdoors at our Autumn Get Together in Eureka Springs hosted by the 1905 Basin Park Hotel and 1886 Crescent Hotel. Engage in adventure activities like yoga, live music, hiking, biking, and more. 
"COMMUNITY OF FRIENDS" Rates
Mid-week rate Just $75 at Basin Park Hotel  Book Now
Mid-Week rate just $99 at the Crescent Hotel  Book Now
From November 13th to November 20th, take your crew on a relaxing autumn vacation to your favorite place.
Autumn GetTogether Schedule:–
Sunday, November 13th
$4 GetTogether Join us at Top of the Crest for our local feature. $4 brews!
Monday, November 14th-
 Lake Leatherwood City Park Hike– Meet at the Bathhouse area. 
$4 GetTogether  Join us in the Sky Bar for our local feature. $4 brews!
Wednesday, November 16th- 
In-town trails hike-Meet in Basin Park Hotel lobby.
$4 GetTogether – Join us in the Jack Rabbett's for our local features on tap. $4 Brews!
Thursday, November 17th
$4 GetTogether–Join us in the Frisco Sporting Club for our local features on tap. $4 Brews!
With Signature Events:
Flight Night–November 18th Prepare to activate all five senses! 
A Caymus Special Selection Cabernet Sauvignon, Behind the Scenes Tasting Adventure, Flight Night begins by gathering on the top floor. Your group of ten friends (new and old) will meet their host to climb a flight of stairs to the roof with a craft beer tasting.
 Frisco Sporting Festival–Sunday November 19th
With Challenges like hatchet throwing, BB gun shooting, and cornhole, plus some great barbecue and drinks.
---
Autumn GetTogether Weekend Room Package
Two Night Weekend Stay (Fri/Sat)
Two Passes to Flight Night-11/18
Breakfast for Two: Fresh Continental (Sat) & Crescent Breakfast Buffet (Sun)
Included Resort Activities: Morning Yoga / Guided Hike / Free Lake Leatherwood Bike shuttle
Late Check-out on Sunday
$499 plus taxes and fees. Call to reserve 800-643-4972
---
FALL TRAVEL TO THE OZARK MOUNTAINS IS AWESOME
So get out your favorite sweaters and book your trip to enjoy the fall in the Ozark Mountains' rolling hills from leaves turning through November events.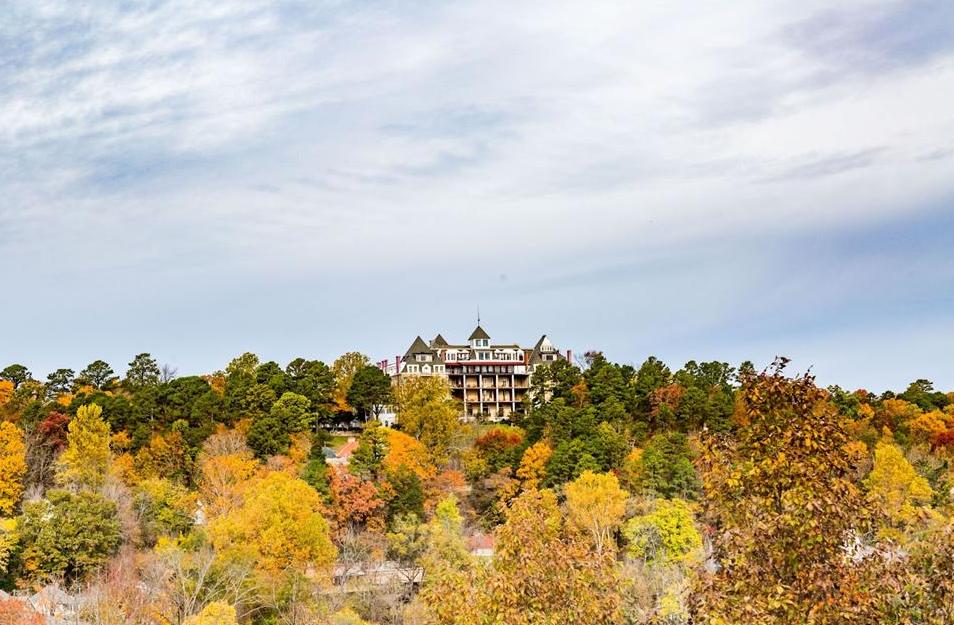 Learn more about viewing leaves in the Eureka Springs area, including fall activities, scenic drives, and see what the leaves look like right now with 3 live webcams at the Eureka Springs Fall Foliage Website.