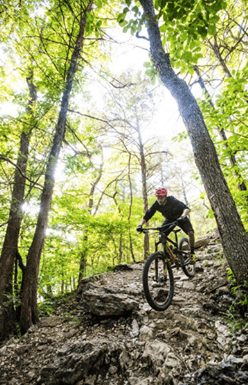 What do mountain biking, live music, craft beer, arts & crafts and a mobile food court all have in common? The 19th annual Fat Tire Festival in Eureka Springs, Arkansas…July 14-16
This 3-day-weekend event is for the whole family. Whether you are a rider, spectator or party-goer there is something for everyone. All festivities will take place in the beautiful Lake Leatherwood park where everyone is encouraged to camp. Call 479-253-7921 to reserve your camping site today.
Not interested in camping, but still want to enjoy the festival? Check out the 1905 Basin Park Hotel located in downtown Eureka Springs…only a 9 minute drive from the park.
Adult Competitive Races:  
Short Track

Downhill

Super D

Cross-Country

Omni & DH Duo
Check out the details of the races and register online.
Kids Rides & Events:
Skills course

Short Track Challenge

Guided Fun Ride

Rodeo
To participate kids must be registered and have a signed consent form.
The main event of the weekend, Big Town Ride, will take place on Saturday afternoon. This group ride will take you through the back streets and alleys known only by the locals and finish up at BREWS for a cold beverage. Head back to the park to enjoy live music and a silent auction.
This event is for the thrill seekers and fun-lovers alike. Bring your bike, your kids, your camping gear and enjoy a weekend away in the Ozarks. Visit the event facebook page or website for more information.
Can't make Fat Tire Festival but want to Ride Eureka Springs?  Learn More Here