Are you looking for the perfect girl's getaway for Spring Break? Ready to shake off that Winter slump?  Well search no further than Spa1905 in One of a Kind Eureka Springs, Arkansas! 
Spa1905 is the rejuvenating oasis you and the ladies have been craving this year! Located in the historic  Basin Park Hotel in the very heart of vibrant Downtown Eureka Springs, you'll get the pampering you deserve while having all the fun and excitement of downtown right outside your door. It's a win win deal! You'll be emerging from this Spring Break Getaway with a new refreshing, renewing and restorative spirit that will send you into the season ready for anything! Here is what we are including in this limited time offer:
You can rent the four cozy Spa rooms (these rooms are actually located inside the Spa) on any Tuesday, Wednesday or Thursday.

When you arrive to your rooms you'll be greeted with a special welcome to Spa1905 surprise gift just for you and the girls.

Receive your vouchers for your relaxing a full-body massages so you can feel all the stress and worries melt away.                   

Enjoy luxuriating on the spacious private spa deck and immerse yourself in the hot tub as you're worries fade into the steam.    

Savor a delicious Continental Breakfast on the deck while you and the girls catch up on the latest.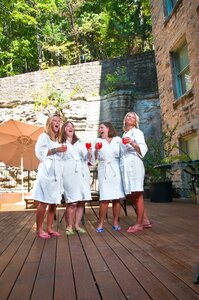 With so many amazing things to offer, isn't this the deal you and your friends deserve?  This is a limited time offer so call The Basin Park Hotel Reservations Department  and book you're One of a Kind Girl's Trip  to Eureka Springs today! 
Call to book : 855-887-7316
Minimum three rooms
Single Occupancy – $199 
                   Double up and save $40 per person                  
    Double Occupancy – $159 per person
Offer Valid March 6th-29th