Things to Do on Halloween in Eureka Springs
Post from 2018
Halloween Séance at the Crescent Hotel.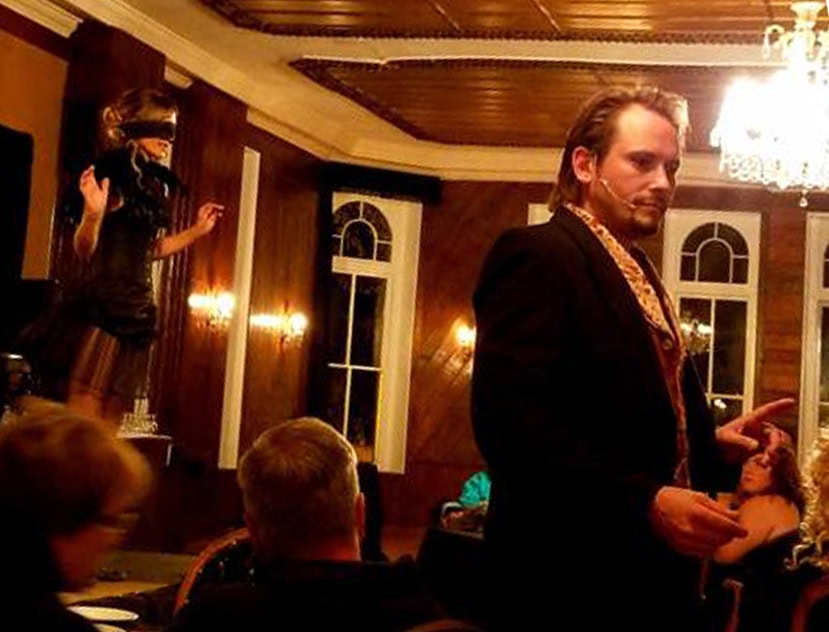 On the heels of last years Amazing and hair-raising Séance – Intrigue theater's Sean-Paul and Juliana Fay return to the Crystal Ballroom – to present and evening of Mysteries that embody the Legends and History of Eureka Springs Crown Jewel – the Crescent Hotel.
1886 Crescent Hotel & Spa – America's Most Haunted Hotel
The Crescent Hotel's legacy is built on many different personalities  and none were more notorious than that of Dr. Norman Baker.  But long before he was a "doctor" he was starstruck with the highest grossing performer on the Vaudeville circuit  Ms Anna Eva Fay – the indescribable phenomenon.
The Original Ghost Talker
She was born of the spiritualist movement and could see and tell things from the other side.  Juliana Fay's Ghost Talker performance is a tribute to Anna Eva Fay and on Halloween Night she will start off the evening with her nationally recognized talents.
The Hypnotist
Norman Baker was so inspired by Anna Eva Fay that he became a vaudeville performer himself as a "MESMERIST"  (HYPNOTIST).   Sean-Paul will bring audience members on stage and put them under trance to perform an full on Hypnosis show as a tribute to Norman Baker.   The finale of this segment will be a Past life Regression experiment with someone from the audience.
The Séance! 
Sean-Paul and Juliana Fay will continue to lay out the personalities that are believed to side reside in the haunted hotel and will begin the Séance with more paranormal experiments involving members of the audience.    The night will crescendo will the entire audience taking out their pendulums and or their favorite Ghost Hunting apps as Sean-Paul and Juliane will engage the spirits of the Crescent with a custom crafted script just for  the night.     Sean-Paul recently shared, "The results of  the séance from last year were beyond what we were expecting and we are excited to see what will happen this year!"
Tickets begin at $32 per Person