Eureka Springs Arkansas may not be best known for vacation getaways during the chilly part of the year, but that is changing with this Ozark Mountain destination evolving into a year round travel spot.
Romantic cabin retreats, year-round dining, destination spas, music festivals, paranormal events, valentines day, scenic hiking, eagle watching and destination mountain biking have transformed this season into a sought after mountain escape.
Popular lodging in the winter season is readily available in Eureka Springs.
Downtown hotels such as the Basin Park Hotel offer lodging in the center of downtown district adjacent to the many year-round restaurants, coffee stops and entertaining nightlife. (Shopping is assured on weekend days)
Cabins resorts are perfect to escape and find renewal with a quiet escape overlooking Beaver Lake or the fresh smells of the Ozarks during this crisp period. Try Loblolly Pines Adventure Camp with its on-property trail, waterfall, community deck and outdoor hot tub.
Of course, the venerable Crescent Hotel and Spa is open year round. Known as a preeminent destination spa resort, the winter season sees fewer day visits and the hotel finds a more peaceful path towards relaxations. For those investigating the paranormal, a weekday visit with a sparsely populated hotel paired with a late night ghost tour is a bucket check item.
For dining, the majority of Eureka Springs restaurants are also open now year round. (Weekends are sure, however check operating hours mid-week as a common pattern is to close two days and reduce hours Monday – Thursday.)
Breakfast at Mud Street will always start your day in a good way with a big pancake, tasty muffin top or healthy fruit, granola and yogurt
Lunch on the Balcony Restaurant is a winner year round. Indoor dining available. Try the monte cristo with the blackberry jam or enjoy one of the home made soups.
Dinner in the winter at Rogues Manor is an event. Sip on a scotch from a wide collection, take you time and enjoy one of the finest steaks you will find.
When you need coffee Downtown Eureka Springs has three great coffee shops. Eureka Springs Coffee is on Main St, Daily Roast is at Spring and Center and Brews can be found on upper Spring.
THINGS TO DO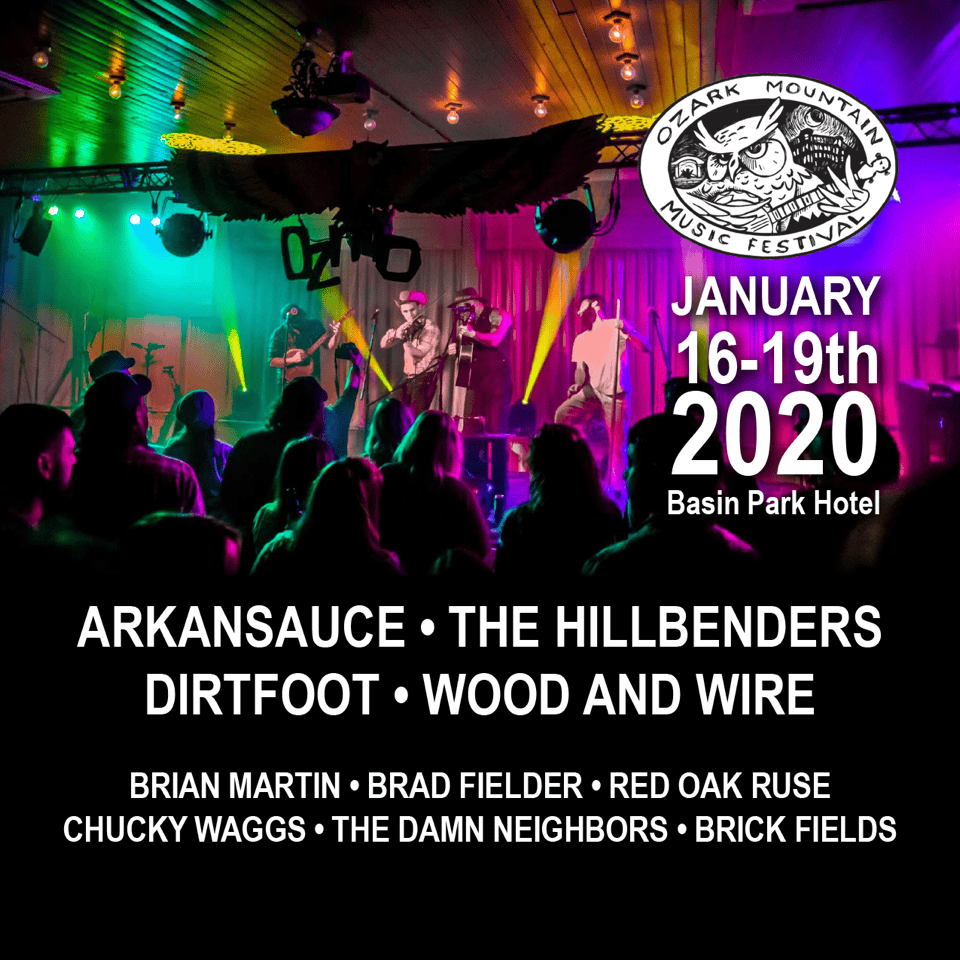 While enjoying some you time, there are also plenty of great activities that may be a bit different that how you previously visited this quaint mountain town.
Mountain bike trails have arrived at both the Great Passion Play site and Lake Leatherwood accenting what was already a great place to ride. In fact, Groups are opting to leave the bikes out and keep the skis in storage.
(This years ski trip can be a mountain bike adventure – same attitude better weather.)
Without the bike, great hiking is available. Picturesque trails often times play witness to bird migration and the overpowering awe of a bald eagle in flight while the Downtown N Underground tour tells the somewhat seedy tales of Eureka Springs' early days.
For Daytripping, its a short drive to such major sites as Crystal Bridges Museum of American Art, Roaring River State Park, Pea Ridge National Battlefield, or an Arkansas Razorback mens basketball game.
Closer to your cabin, evening activities include a thrilling ghost tour of Americas Most Haunted Hotel or the common live music in the many clubs. Eureka Springs Paranormal Weekend and The Ozark Mountain Music Festival both occur in January.
No visit is complete without a trip around the ice at the Crescent Hotel. Tuesday, Friday, Saturday and Sunday from 4-8 pm current conditions. (some visits more special than others)
It may not be what you were thinking but Eureka Springs Arkansas is ready to host visitors year round.