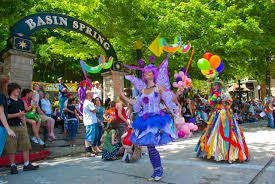 Post from 2016
Are you an empty nester? Or maybe the schedules have just aligned and you have a kid free weekend. A wonderfully wacky spring festival is headed to Eureka Springs and it is everything good and artsy.
We are talking exhibits, demonstrations, performances, food, music, parades and street parties. Take advantage of the festivities throughout the month of May.
To kick things off is the ArtRageous Parade on May 6th at 2 pm. Floats, dancers, musicians, jugglers and more will make their way downtown Eureka Springs, so grab a spot along the sidewalk and take it all in. You may even want to grab a table at the Balcony Restaurant. As the name implies, there is outdoor seating that overlooks the downtown area where the parade will be passing by.  In the evening, you can catch drumming in the Basin Park.
Between checking out the Bridge of Love and various galleries, we know you will work up an appetite. Various restaurants around Eureka will be participating in Nuits Rosé Eureka Springs May 12th-14th. Those involved will be offering Rosé tastings, flights, and pairings to serve with special menu items.
You will start to notice as you wander around Eureka the beautiful historic buildings and homes, many of which are painted in the most vibrant of hues. Located on the upper historic loop, the White Street Walk will take place on May 19th and is an event that invites the public into many local artists' homes and studios. More than 40 guest artists will be on display during this event. Join this street fair type event and get a real sense of what it would be like to live and work in Eureka while enjoying refreshments and music.
Your kids, both young and old, will be jealous when they see the photos from your fun weekend away. Who knows, maybe you will even find an art piece or two to display in your home.
Want to explore the town without worrying about where to park? Stay at the Crescent or Basin Park and enjoy a complimentary shuttle service that will take you around town. Let the pros navigate the winding roads, you enjoy your stay.