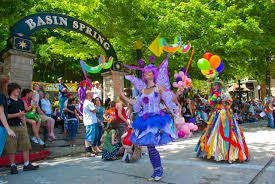 Post from 2016
Eureka Springs is home to hundreds of artists and this May, the town will celebrate the artistic and creative spirit that makes Eureka Springs such an inspiring place to visit.
Here are just a few suggestions for things to do in Eureka Springs in May:
Stroll the art galleries  
Take a drawing class
Join a drum circle in Basin Spring Park
Watch as the Plein Air Painters of Eureka Springs recreate beautiful landscapes
Enjoy a glass of Rose' during the First Annual Nuit Rose'
Walk with the locals during the entertaining White Street Walk
Don't miss the ArtRageous Parade
Learn more about the Eureka Springs Festival of the Arts! Find the best deal on Eureka Springs lodging in the month of May on ReserveEureka.com!