Destination Small Meetings find Northwest Arkansas' Eureka Springs
Eureka Springs, long seen as a vacation destination is enjoying somewhat of a re-birth as a Destination Meeting location. Surprisingly convenient, Eureka Springs is less than 35 miles east of the I49 corridor and boasts easy access from both XNA and Branson Airports. "In Eureka Springs, we found ourselves at full occupancy on the weekends and soft during the week. As the senior, family and bus market have softened we realized that we needed to enhance our weekday trade through diversification. By pairing our chef talent, service team, spas and activities with our technology upgrades and high quality meeting space the corporate meeting was a perfect fit" stated Jack Moyer, Crescent Hotel General Manager "most important is that small meetings of 75 or less may get lost in a big hotel, where at our place you are the big meeting in our small place."
Value Destination
As Eureka Springs is primarily as tourism destination, rates tend to tick upwards on Friday and Saturday nights. Rates commonly dip 30% for Sunday-Thursday night stays with group rates occasionally seeing greater margin.
Things to Do
In Eureka Springs, there is more to your meeting than just your agenda. A classic destination for meetings to include spouses, Eureka Springs is fortunate to sit neatly between three lakes and two rivers, plentiful trails and parks, a collection of over 100 restaurants and over a dozen day spas, offer golf nearby and feature over 30 attractions from the Great Passion Play to the remarkable illusions of Intrigue Theater.
Historic Hotels welcoming Destination Meetings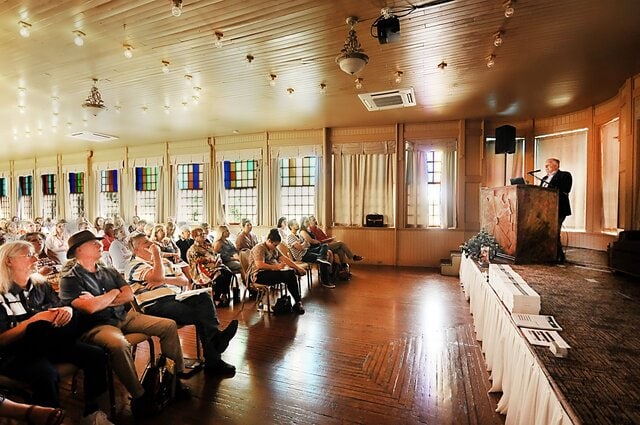 THE 1905 Basin Park Hotel
One site favored for corporate retreats is the 1905 Basin Park Hotel. Initially housing health seekers and business trade for a bustling new town this second generation 1905 building replaced the luxurious Perry House which perished in the great fire of 1888. Today, The Basin Park Hotel is back. Experiencing its greatest period of growth since the county sheriff removed liquor by the drink and slot machines in 1951, The Basin Park Hotel is alive with weddings, weekend travel and corporate meetings. An ideal location for meeting planners wishing to add something more to their meeting than just the agenda points, The Basin Park offers turn of the century "Mission Style" décor, renovated guest rooms and suites, Rooftop Billiards, Balcony Dining and Spa Services; all this with a location whose front door opens to the 19th century shopping dining and entertainment district.
THE 1886 Crescent Hotel & Spa
This Mountaintop Spa Resort known as a prestigious member of the Historic Hotels of America is the leader in the Eureka Springs market for Destination Meetings. Focusing on meeting group of 75 and down, The Crescent Hotel has been sought nationwide as a highly productive business environment, a destination spa, on the Harmon Park loop and the headquarters to the resort destination that is Eureka Springs. The Crescent Hotel has been fully-restored, offers fine dining in the Crystal Dining Room Restaurant, black-tie catering, VIP meeting services, advanced AV and a sought after destination to bring spouses.
Meeting Tips
Eureka Springs typically offers value dates every Sunday – Thursday night often times saving as much as 30% off weekend rate. These same "weekday rates are often times available on weekends that should major holidays and in the off-season from November 15 – March 15. By booking on shoulder periods crowds are often less and group pricing is often available at off-site attractions such as the Ozark Ziplines, day spas or a behind the scenes tour of the Great Passion Play. This same factor ensures waits at such primary dining locations as Ermillios or Local Flavor are small or non-existant. For late evening, Eureka Springs downtown hotels partner with over twenty bars and lounges through the 21 & Fun program, making the challenges that go along with the "Hospitality Room" one less thing to be concerned about.
Getting to Eureka Springs
Eureka Springs is located in Northwest Arkansas at the junction of Highways 62 and 23. Eureka Springs by automobile is 4 hours from Little Rock, 3 hours from Tulsa, 2 Hours from Springfield and 1 hour from most points on I49. The destination is also just 54 miles from the Northwest Arkansas Regional Airport (XNA).
Meetings in Eureka Springs, focus on groups of less than 400 and primary focus is on meetings that bring attendees of 50 – 100 attendees. "One thing for sure, attendance to Eureka Springs meetings is strong. If planners need everyone to adjust their schedules to attend, we are the place."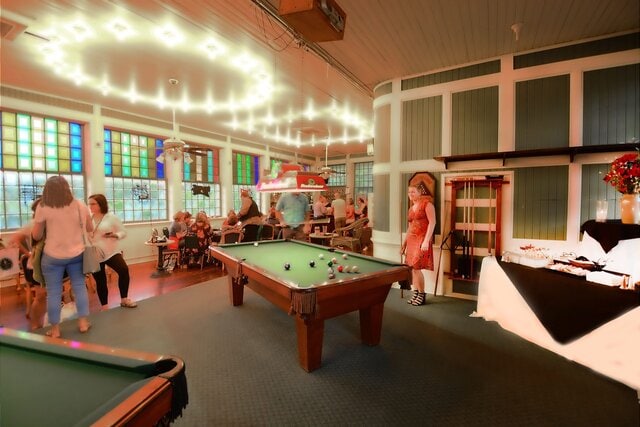 Historic Hotels Meeting Room capacities
The Basin Park Hotel:
Hotel Guest Rooms:
60 Total 14 Jacuzzi Suites
Meeting Space:
Atrium Room 880 Sq Feet 5 – 40 attendees
Ozark Room 1180 Sq Feet 15 – 115 attendees
Grand Ballroom 2300 Sq Feet 50 – 200 attendees
The Crescent Hotel and Spa:
Hotel Guest Rooms:
76 Total 7 Jacuzzi and/or Premium Suites
4 Cottages
Meeting Space:
Roenigk Board Room 8 attendees
Conservatory 1180 Sq Feet 25 – 125 attendees
Crystal Dining Room 3200 Sq Feet 75 – 300 attendees