Eureka Springs is a destination for adventure travel in Arkansas, the Natural State. Here are just a few of the outdoor activities you can try while in Eureka Springs: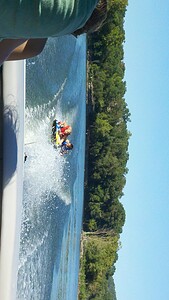 Hiking – From the sidewalks of downtown to the pristine woodland trails, Eureka Springs offers plenty of hiking opportunities. Take a walking or guided tour of downtown, explore Oil Springs Trail on Black Bass Lake or take an expedition to nearby Buffalo River National Park Region.
Biking – Discover epic trails at Lake Leatherwood or sign up for one of Eureka Springs Outdoor Events.
Floating – Enjoy scenic floats on the Kings River with Black Jack Adventure, Kings River Outfitters or Riverside Canoes. Float the White River with Adventure Mountain Outfitters. Canoe or paddle on Lake Leatherwood.
Ziplining – Feel the thrill of zipping through the Ozark Mountain canopy in Eureka Springs. Ozark Mountain Ziplines at Eureka Springs will guide your adventure through the treetops.
Fishing – The White River is a premier fishing stream.
Boating – Table Rock Lake and Beaver Lake offer boat rentals and other watercraft for a fun day on the water. Check out Starkey Marina and Holiday Island Marina for boat rentals.
Swimming – With clear water, Beaver Lake is the choice lake for swimming and diving.
Spelunking – Discover Onyx Cave, War Eagle Cavern, Cosmic Caverns or one of many historic caves near the natural springs of Eureka Springs.
Water Skiing – Table Rock Lake and Beaver Lake are perfect for water skiing. Check out Starkey Marina and Holiday Island Marina for boat and ski rentals.
Horseback Riding – Spend a day exploring the outdoors on horseback at one of many Eureka Springs stables. Check out Red Bud Riding Stables or Steve's Stables.
Birding  & Wildlife Viewing – You will find wildlife everywhere in Eureka Springs. Explore Lake Leatherwood, Harmon Park, Black Bass Lake and other city parks. To see elk, visit the Buffalo National River Region.
Scenic Drives  & Motorcycle Rides – Follow the Arkansas Art Trail or download a map of Eureka Springs Best Motorcycle Rides.
Plan your Eureka Springs outdoor vacation.