Christmas in the Ozark Mountains
Christmas Season in the Ozarks is as charming as anywhere in the country.
In the Ozark Mountains Southern Region is Eureka Springs, home of the Great Passion Play and one of America's most picturesque Main Streets, where this holiday village celebrates with its annual tour of homes and One-of-a-Kind shopping.  The village known for its preservation of century old buildings is laced with over 100 mom and pop shops and an annual Christmas festival that starts with a night parade and ends with a holiday market down Spring Street.
In the Ozark Mountain Central Region, Branson has made its holiday lineup of events a treasured tradition. Celebrations run from the beginning of November through New Year's Day – there's no waiting for Thanksgiving to kickoff the holidays here!
Here are fun ways to celebrate the holidays in the Ozarks:
Christmas SHOPPING in the Ozarks
If you need to take care of some holiday business in Branson – that's insider lingo for "shopping" – you won't be disappointed. Speciality shops, outlet malls and unique-to-Branson experiences await, just be sure to bring your full shopping
 list. Explore the shops here.
In Eureka Springs, exclusive, personalized, meaningful and one of a kind describe the gifts found early along Spring Street.  The town has hundreds of artisans that work throughout the year with many creations sold by the artist themselves in gallery.  Visit the Downtown District
INSPIRATION
Branson is noted for its live shows and performers. It's not called the Live Music Show Capital of the World for nothing! Visit our Live Shows page to see the amazing lineup holiday shows that celebrate the season. See the Dixie Stampede
Eureka Springs, home of the Great Passion Play will feature holiday shows at the Ozark Mountain Hoe-Down through November 18th and Christmas Concerts in the Auditorium throughout the holiday season.  See a Calendar
CHRISTMAS LIGHTS
Eureka Springs is America's Victorian Village and no more so than in November/ December.  Christmas lights and storefront displays are not to be missed.  Don't Miss Living Windows on Saturday December 9, 2017.
In Branson. Silver Dollar City is a light afficianado's dream (keep reading!) and there are several drive-through Christmas light displays, including Branson's Let There Be Lights!, Gift of Lights and Trail of Lights.
SILVER DOLLAR CITY
Experience the wonder of Silver Dollar City at Christmas, where 5 million lights – yes, 5 million! – create an eye-popping experience sure to delight the kids and the kid in everyone. Two live Chistmas shows, 1,000 decorated Christmas trees, a five-story special effects Christmas tree and the Holly Jolly Christmas Light Parade are part of the park's amazing holiday lineup.
Friends who would like to Stay in Eureka Springs, but visit Silver Dollar City can enjoy the SDC Partner rate at the Crescent Hotel for just $99 per night
Christmas at the Crescent begins Saturday December 2 with the annual lighting of the Christmas forest and continues through the 9th with daily festivities, colorful displays, Santa's Brunch and chorale celebrations.
SPECIAL EVENTS
Eureka Springs is about Holiday Events.  From early season, "Made in Eureka" fun; to Home for the Holidays over Thanksgiving Weekend with Black Friday and Small Business Saturday, This Ozark Mountain Christmas destination also has an incredible Christmas night parade, a holiday tour of homes to peek inside these Victorian homes, a Christmas Festival held at an 1886 Historic Hotel of America, Santa in the Park, holiday concerts, a Christmas Market and a night of 1000 Santas.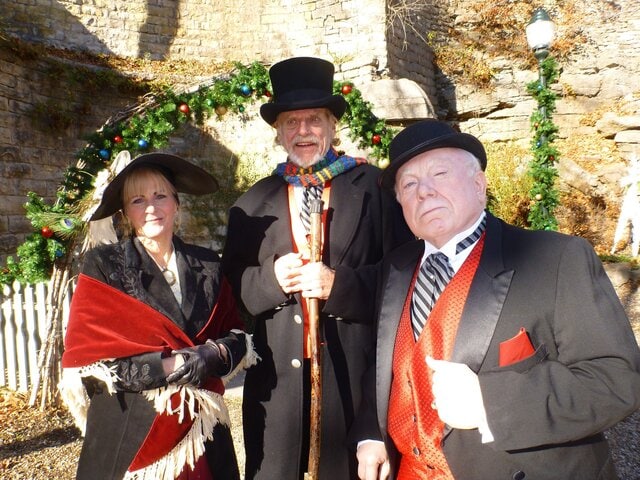 The holidays in Branson wouldn't be complete without several special events . A not-to-be-missed event is the annual Adoration Celebration, which celebrates the true meaning of the holidays. The event includes the lighting of the Adoration Scene (displayed on Mt. Branson) and a parade. See all of the exciting events in Branson.
Ozark Mountain Christmas Celebrations are special and Branson and Eureka Springs are great destinations to make your holiday memories.
More at Eurekaspringschristmas.com or find holiday deals at reserveeureka.com