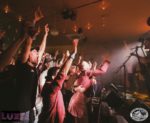 The Spirit of OzMoMu is one that must be witnessed!
The Ozark Mountain Music Festival is an Ozark Mountain fusion of Bluegrass, Folk, Urban and American Roots Music held annually at the Basin Park Hotel in Eureka Springs, Arkansas. With bands often celebrated at such major festivals as Wakarusa or Harvest Music Fest, the Basin Park Hotel has invited festival goers to come "camp inside" on a chilly January Weekend with some hot music and great memories. This up close and personal music festival is held over four days bringing a unique vibe of an outdoor music festival on indoor stages.
Held on the third weekend of January for 7 years OzMoMu Fest has become a staple festival for music lovers from all over the region. The festival always starts with a local headliner on Thursday that rocks the house and gets the energy up for the whole weekend.
On Friday you can start in the listening room on the first floor to kick off the night and continue the day with another headliner known in the American Roots music world.
By the time Saturday comes around downtown is buzzing and the hotel is sold out with festival goers decorating their guest room door, dancing, enjoying the food and music throughout the building.
When the music ends at the Basin around midnight each night the crowd then shifts to the local pub that host an open jam of all the musician that have blessed the stages for the weekend.
On Sunday morning the festival is wrapped up with a bloody mary bar and some sweet blues music to seal up the energy and memories that will last until the crowd can gather again for the annual winter dance party.
The experience of OzMoMu, much like the spirit of it, is something that has to be witnessed. One can find daily Costume themes, guest room door decorating contest, live painters, craft vendors and musicians in the hallways! Activity additions are added every year and some of our favorites include Yoga & Mimosas, craft beer tastings, ice skating and hatchet throwing.
One of the biggest draws to the winter festival is that there really is no backstage area so all guests and musicians share the same space all weekend! 
Past Line Ups include:
3 Penny Acre
Achi
Arkasauce
Ben Miller Band
Brick Fields
Brody Buster
Calamity Cubes
Camptown Ladies
Carrie Nation and the Speakeasy
Chucky Waggs & the CO of Raggs
ClusterPluck
Cody & Desi
DimeTrip
Dirtfoot
Fast Food Junkies
Friends of the Phamily
Grassfed
Handmade Moments
High Plains Jamboree
Hog Slop String Band
Honkeysuckle
Hooten Hallers
Horseshoe and Hand Grenades
Hosty Duo
Kansas City Bear Fighters
Mountain Sprout
Miles Over Mountains
National Park Radio
Oliver Hazard
Opal Agafia and the Sweet Nothings
Red Oak Ruse
Reverend Just Hylton
Sad Daddy
Shawn James and the Shape Shifters
Skye Pollard
Tall Tall Trees
The Creekrocks
The Haunted Windchimes
The Haymakers
The Hillbenders
The Kitchen Dwellers
The Mighty Pine
The Schwag
Tyrannosaurus Chicken
Urban Pioneers
Whiskey for the Lady
Wink Burcham