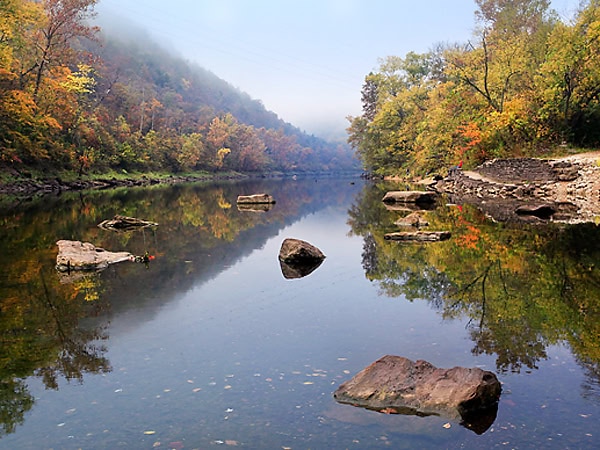 Highway 62 connects the best of the Ozark Mountains Southern Region
(EUREKA SPRINGS Arkansas) —
Crossing the Ozark Mountains Southern Region lies a stretch of highway that connects visitors to the "Best of Arkansas".  Highway 62 winds through the Ozarks serving as the primary route of the southern region while connecting such destinations as Bentonville, Eureka Springs, Mountain Home, Norfolk Lake and Crowley's Ridge.  In the Northwest Corner,  Bentonville to Eureka Springs is a one-hour stretch that includes such High points as Crystal Bridges Museum of American Art, Thorncrown Chapel, Pea Ridge National Battlefield and Eureka Springs – One of Americas Dozen Most Distinctive Destinations.
A partner website that details stops along Highway 62 and pairs them with art  is the Arkansas Art Trail (arkansasarttrail.com.)  The Arkansas Art Trail is a project to map sites in the Natural State where nature inspires art.  Modeled much in part to the Thomas Cole Art Trail in the New York State's Hudson Valley, site founder Rachael Prevatte explains  "With Fall Foliage season in Arkansas nearly upon us, the trail features breathtaking vistas, mountain views, nationally significant sites, and natural settings.  These points of visual interest are complimented by architectural features and made meaningful by local heritage and cultural sites.  The Arkansas Art Trail includes ten stops including such well-known destinations as Crystal Bridges Museum of American Art and Downtown Eureka Springs.  It also guides trail followers to lesser known but nationally significant points of interest along Highway 62 such as the outstanding collection of Antique shops and views of Inspiration Point."
"Realistically, viewing the Arkansas Art Trail in its entirety can take three to seven days
depending upon how long visitors choose to linger at each site or how many side trips are taken, knowing this the trail has been organized into three legs that take an average of one day to complete.  Day one and Day two include the highlights along Highway 62."
Overnighting on the Trail is encouraged.  Several lodging establishments are actually part of the trail due to their artistic and architectural significance.  One such property is "Arkansas' Symbol of Hospitality", the 1886 Crescent Hotel & Spa, a proud member of Historic Hotels of America.  The Crescent is located in Eureka Springs.
For more information on the Arkansas Art Trail and places to stay, visit http://www.arkansasarttrail.com/trail-views
END
++++++++++++++++++++++++++++++++++++++++++++++++++++++++++++++++++++++++++++++++++++
-SIDEBAR-
A full list of the stops on the Arkansas Art Trail includes:
Headquarters Resort
1886 Crescent Hotel & Spa; Eureka Springs, Arkansas
Arkansas Art Trail Destination 2
Crystal Bridges Museum of American Art; Bentonville, Arkansas
Arkansas Art Trail Destination 3
Bentonville Square; Bentonville, Arkansas
Arkansas Art Trail Destination 4
War Eagle Mill (Side Trip: Hobbs State Park); between Eureka Springs and Rogers, Arkansas
Arkansas Art Trail Destination 5
Thorncrown Chapel; Eureka Springs, Arkansas (Side Trip: Cooper Chapel; Bentonville, Arkansas)
Arkansas Art Trail Destination 6
Inspiration Point / Eureka Springs School of the Arts / Opera of the Ozarks / Blue Spring Heritage Center; Eureka Springs, Arkansas
Arkansas Art Trail Destination 7
Pea Ridge National Military Park; Pea Ridge, Arkansas
Trail of Tears in Arkansas; Benton County
Arkansas Art Trail Destination 8
Roaring River State Park; Cassville, Missouri (Side Trip – Beaver Bridge / Beavertown / Rogues Castle; Beaver, Arkansas