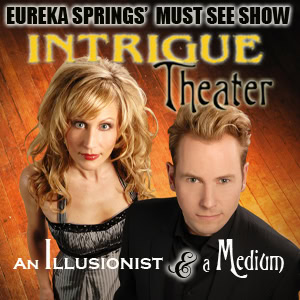 Eureka Springs Conquers the big stage in Las Vegas
Sean Paul,  Julianne (and of course FRANKIE) represented Eureka Springs well at the Penn & Teller theater in Las Vegas.  See them throughout October in their Eureka Springs Intrigue Theater
Thrilling events in Eureka Springs this October
Eureka Springs IS the Halloween City!
Please see our AMAZING COMMERCIAL created to tell the country that our haunted Victorian town is GROUND ZERO for Halloween fun for the ENTIRE MONTH OF OCTOBER!   It's Not just our Halloween Show or our Seance Dinner on Halloween night at the Crescent, but also Hair Raising shows like ANNA, and Not Really a Door.   We have Ghost Tours all over the city and in tour Haunted hotels.  We have 3 underground restaurants and underground tours of the city.  We also have the new Escape Room 13.    Turpentine Creek is having a big Halloween Festival and don't forget our big Zombie Parade.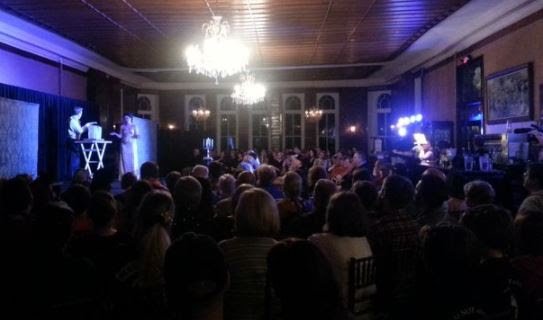 Seance Dinner, Halloween night at
America's Most Haunted Hotel
It has been 3 years since we last celebrated Halloween at the Crescent hotel in their Crystal Ballroom.   As you can see in the picture from our last show there – the room was packed!  This year it will be more ELEGANT AND EXCLUSIVE!   All Guests will be seated for dinner and enjoy a 3-course dinner – but in between, we will be conducting paranormal experiments and then when dinner is finished we will conduct the seance and open the room for comments from the other side….