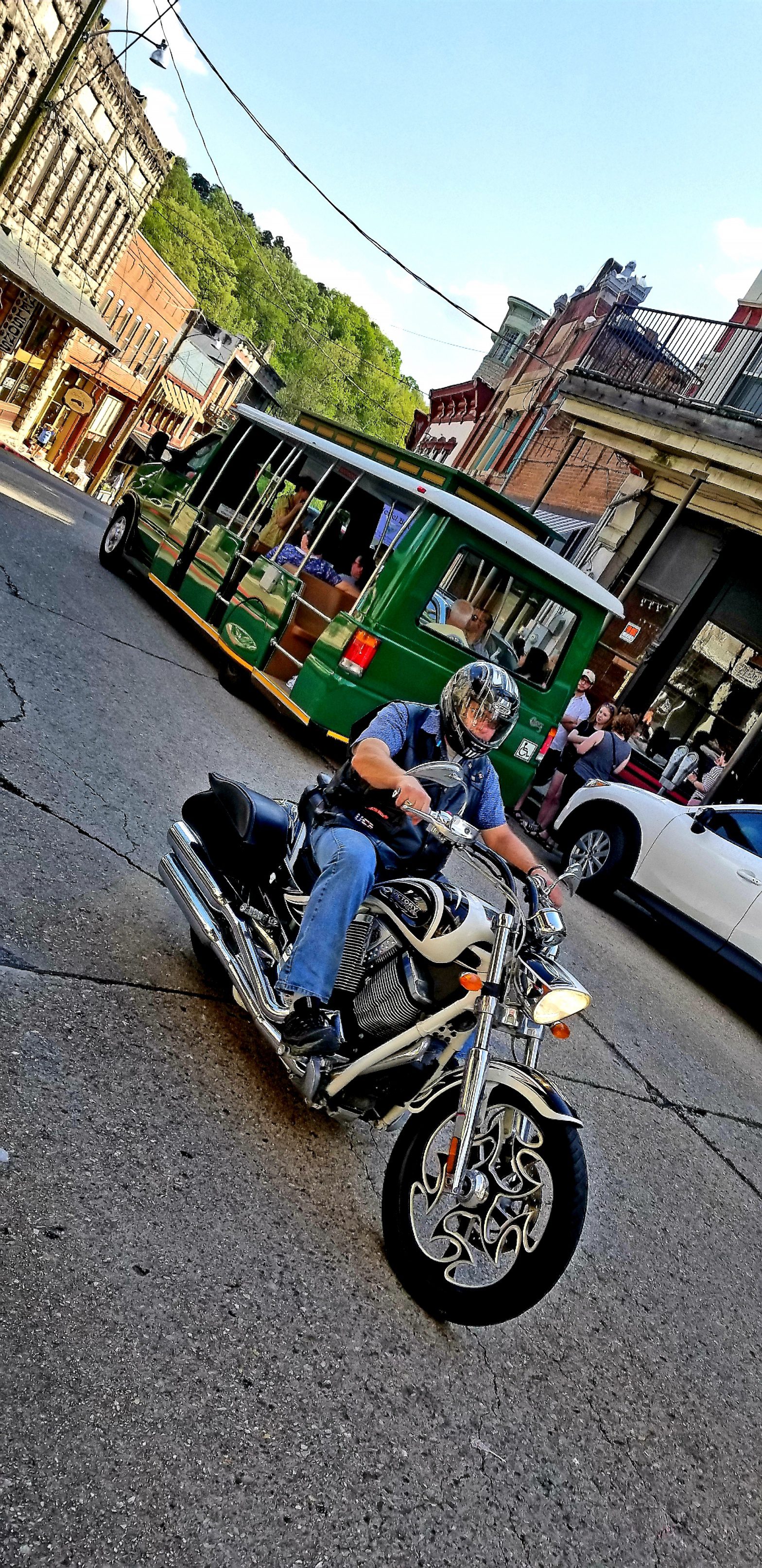 Fall Motorcycle Trips to the Ozarks begins with one thing.  The Ride.
As your planning begins, ESO is happy to provide you these Five can't miss Arkansas Motorcycles Rides
GREAT RIDE #1
The Peel Ferry loop takes riders north into Missouri through Golden and Kimberling City, then east through highways carved out of limestone on into world-famous Branson.  There in Historic Downtown Branson is an "old-school" diner that features a range of traditional homestyle meals in a snug space with quirky decor, Branson Cafe.  Upon leaving Branson, travel further east through Reuter and south back into Arkansas to Peel Ferry.  There, along the banks of Bull Shoals Lake, bikes will board Peel Ferry that runs during daylight hours the year-round and is the only existing ferry that plies any Arkansas river or lake.  Serpentine highways wind past Bull Shoals southward to Yellville and U.S. Highways 412 and 62 leading riders back west to Eureka Springs.
This ride itself is approximately a 200 mile / five hour sojourn.
GREAT RIDE #2
The Arkansas Dragon's Tail loop takes riders south and east of Eureka Springs through the hills-n-hollers shared with such topographic notables as the Buffalo River National Park (America's only river ever designated as a national park) and the "Arkansas Grand Canyon".  Towns along the way are Harrison, Western Grove and Mt. Judea (pronounced "Judy").  At the bottom of the loop is the little historical community of Lurton that sits along the old wagon trail that was known as the Chisum (sic) Turnpike.  Coming back up toward Eureka Springs, riders will be "passin' thru" Ponca and its nearby herds of grazing elk, and Howe Hollow valley, then west then north through Berryville on into Eureka Springs.   By the way, Low Gap Cafe, a great place for lunch, is only 3.1 miles from Ponca's famous Buffalo Outdoor Center.  The folks there can give you specific directions.
Total round trip is 177 miles and approximately four hours of travel time.
GREAT RIDE #3
The War Eagle Mill Loop is that perfect ride just for lunch at a historic site with rustic charm and great places to un-lax for a spell.  War Eagle Mill, just west of Eureka Springs, is one of America's last operating undershot, burrstone gristmills that sits over War Eagle Creek.  Here riders can watch product being made, then taste some that have been baked up in the mill's Bean Palace Restaurant.  Like what you ate? Take plenty of product home or have it shipped.  The loop also takes riders in, around, and through Hobbs State Park and Conservation Area, 12 thousand acres of pristine Arkansas lakeside woodlands… the perfect "relaxation station" before you head back east.
The ride itself times out at one hour and 16 minutes with 54 miles.
GREAT RIDE #4
The Mo-Ark Loop leads riders to one of the most famous trout hatcheries and fishing streams in the south, Roaring River State Park.  This one of a kind attraction, truly worth exploring, is located just over the line in Missouri with the added dividend of Ozark scenery through Mark Twain National Forest.  More scenic panoramas in the return trip through Seligman, MO (a historic train hub community) and Gateway, AR (adjacent to Pea Ridge National Military Park).  From there back to Eureka Springs, the route along U.S. 62 has steep hills, blind curves, requires full attention of the rider, but is adventurous to say the least.
This loop travels over 50 miles with a ride time of one hour and 13 minutes.
GREAT RIDE #5
This ride includes the internationally famous Pig Trail.  This ride is as challenging as it is scenic.  Switchback after switchback between hairpin turns makes this ride a "must do" event when riding in Northwest Arkansas.  The Designated Scenic Highway portion of Arkansas Highway 23 is truly breathtaking.  Getting to that lower part of "the Trail", some say, is equally as breathtaking.  Going east into Berryville then turning south continuing south through the communities of Metalton, Kingston, Fallsville, and Ozone.   A turn to the west just before Clarksville, U.S. 64 will travel through Ozark.  Now the fun truly begins traveling north on AR 23 (a.k.a. The Pig Trail, a designated Scenic Byway). The "leaning" curves and switchbacks momentarily pause alongside the Mulberry River at Turner Bend allowing riders to catch their breath and relax in beautiful, natural surroundings.  After crossing the Mulberry and continuing north.  Yes, more curves and more curves.  The two-lanes eventually begin to straighten out as you approach such communities as Cass, Brashears, St. Paul, Witter and Aurora before coming to the city of Huntsville, then on into Eureka Springs. If you get hungry along the way, there are many places to get a great bite to eat: Waldron's Valley Cafe in Kingston, Ozone Burger Barn in Ozone, Rivertowne BBQ in Ozark, and Granny's Kitchen in Huntsville.  Many riders say that this is the best ride in the nation.
Depending on traffic, this route is approximately five hours in length covering right at 200 miles.
BONUS RIDE
Curvy roads and historic bridges carry riders over the White River and Beaver Lake on the Beaver Town Bridge loop with great views of the water.  Riders have perhaps a once in a lifetime experience as they encounter one of the true treasures of the Southern road.  The historic Beaver Bridge, best known as the "Little Golden Gate of Arkansas", was built in 1949, is 554 feet long but only 11 feet wide thereby only allowing one way at a time traffic.  This is quite a large return for a ride that is only 26 miles and 44 minutes just west of Eureka Springs.  Add the "dam loop" to travel over the point where Beaver Lake starts and the White River begins again.
For LODGING DEALS go to EurekaSpringsMotorcycleRides.com
NOTE:  an Arkansas State Highway Map may be found at < https://bit.ly/3ixBggL>; for a Missouri State Highway Map Section 12: <https://bit.ly/3hVsIBu>, Section 13 <https://bit.ly/3wQcRIA>.