Post from 2015
Excitement is waiting for you this spring in Eureka Springs with some fresh and new attractions.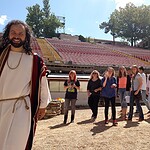 Get inspired at America's #1 Outdoor Drama, The Great Passion Play.  For the first time get a 'behind the scenes' look with backstage tours of the play set. In addition to the greatest story ever told, other attractions on the site like a tour of the Sacred Arts Museum, the Bible Museum or a visit to the Holy Land brings stories from the bible to life. Learn about other attractions at the Great Passion Play that will keep you busy all day.
Tap your feet. Welcome the George Brothers back to Eureka Springs. See them perform their new show at the Pine Mountain Jamboree.
Be amazed with the new show Lovin Every Minute variety show in the historic City Auditorium. eye popping special effects. Singing, dancing, cirque-style performances and acrobatics will keep you on the edge of your seat.
Open your eyes to the mysterious when Intrigue Theater returns to Eureka Springs to perform in the Gavioli May 22nd. Get a glimpse of what Sean-Paul the illusionist and  Julianna Fay, a medium, has in store for you with Intrigue Theater's new show this
season.
Find your freedom at the new Eureka Springs Harley Davidson store in the Pine Mountain Village. While you are there, check out great stores like Fresh Harvest and the Spice Boat.