FAMILIES HEAD TO EUREKA SPRINGS FOR AN OUTDOOR SPRING BREAK
(Eureka Springs, Arkansas) – Families have discovered that the best way to get a break from the indoor confines of a classroom is to load the family up for the kids' spring vacation and head to Eureka Springs, Arkansas.  Here are five reasons:
#1 – Mountain Biking> Eureka Springs has become the mecca for family mountain biking in their five state region.  The reason is simple: millions of dollars have been invested recently in building mountain bike trails for all ages and all ability levels.  Urban trails crisscross the downtown area.  The Great Passion Play has developed a network of trails on their mountaintop acreage.  For those who want to thrill to some of the most exciting downhill runs in the nation, the challenge of Leatherwood Gravity Trail Project sits majestically waiting to be shred.  Lake Leatherwood, one of the largest city parks in the nation, offers easy mountain bike access with the city's mountain bike shuttle system.
#2 – City Parks> Along with the mountain biking trails, hiking trails can be discovered all over town.  Visitors are pleasantly surprised to find many Eureka Springs hotels have a "trailhead" just outside their front door.  These trails offer dynamic vistas and wonderful surprises like discovering "downtown" just around many a corner of an urban trail.  Other discoveries include trails leading to the locations of the city's parks and historic 63 spring locations, the sites to where millions flocked in the late nineteenth century to take advantage of the waters' healing properties, properties now long gone by.  A must hike is down to –and around- Black Bass Lake with its hand-built earthen and cut stone dam erected in 1894 to form the drinking water reservoir which quenched the thirst of this newly incorporated city.
#3 – Two Lakes / Three Rivers> Beaver Lake and Table Rock Lake are both pristine Corps of Engineers' clear water playgrounds and both border the city.  Great fishing and boating are the best on both of these "big water" venues.  Also surrounding Eureka Springs are three rivers: White, Kings and the Buffalo National River.  Families have found that kayaking or canoeing along these three ribbons of H2O bring pleasurable opportunities for memorable family excursions.
#4 – Foodie Mecca> This resort village has probably the widest array and largest variety of places to eat of any city of its size (Eureka's population is 2,001) or larger.  Some of the greatest restaurants in Arkansas call Eureka Springs home.  In addition to these more formal establishments (but NOTHING is formal in Eureka Springs) are dozens of cafes, bistros and eateries that offer unique bills of fare and are locally owned and operated.  Families love SkyBar Gourmet Pizza. It is quite easy to provide a different breakfast, lunch, dinner and snack options each day of their vacation.
#5- Resort Activities> Many hotels are now offering resort activities to give families more than just a place to sleep, many of which take family members into the out of doors.  Historic hotels like the 1886 Crescent and 1905 Basin Park have a daily schedule of activities designed for all members of the family, some totally unique.  Keeping in the tradition of hotels that popped up all along railroad lines going west in the nineteenth century, the Crescent, for example, offers such unique recreational adventures as hatchet throwing in their Frisco Sporting Club.  Both hotels also offer a chance to do a little ghost hunting since both are internationally recognized for their paranormal occurrences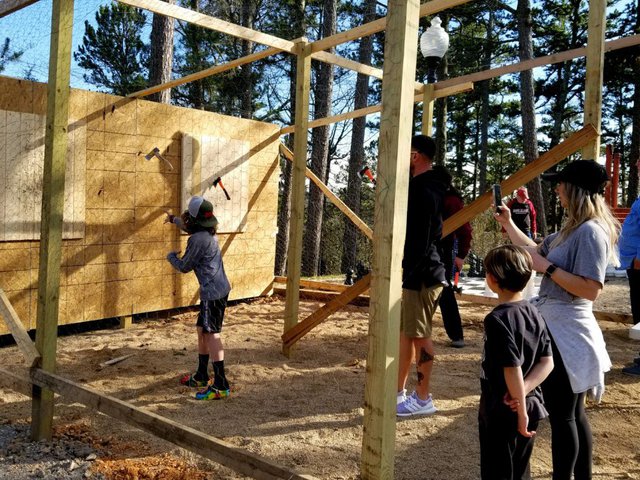 Featured Attraction
Spring Break at Turpentine Creek
Feline Fun at Turpentine Creek
Planning your pre-summer vacation can be stressful, but including TCWR in your travel plans is a choice that won't "Spring Break" your heart! As an ethical tourism destination, you can feel good knowing that your visit to the Refuge is making a difference in the lives of Exotic Pet Trade survivors…while being just plain fun! In addition to normal tours (our trolley is also up and running again!), we have plenty of other feline-fantastic ways to spend a day or two getting to know our animal residents while taking in quality time with the humans you love:  Read MORE
Featured Event
Coming to Eureka Springs…
…a new springtime festival in the Ozark Mountains of Northwest Arkansas.  Touted as an "Ozark Mountain Explosion of the Senses", this Food, Wine and Adventure Festival is perfect for hikers, bikers and people who love the good stuff.  SHRED Eureka Springs, another OZ  production, kicks off its inaugural year on March 27, 2020.