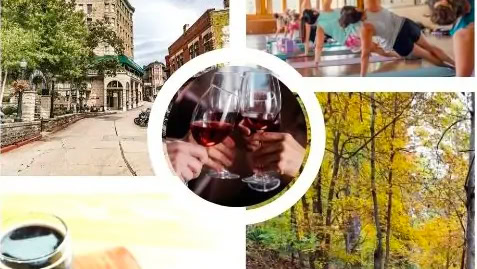 Why Seniors Choose the Branson & Eureka Springs' Ozarks
We seniors may have more time to travel, but we also have distinct desires for what we want to see and do.  The Southern Ozarks offer wonderful natural views for a road trip plus two great destinations:  Eureka Springs (AR) and Branson (MO).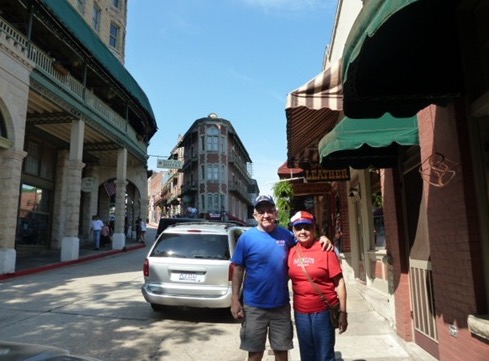 All highways leading into these two resort communities offer great views of forested hillsides, lakes and urban sojourns.  In fact, what I enjoy doing is bedding down at least a couple of nights in each of these two cities using each as a hub for delightful drives along byways designed for the ultimate in sightseeing.  As great as these day trips are, I would be cheating myself if I stayed behind the wheel of my SUV for the four to five days set aside for this vacation, missing out on some great attractions and simple rest and relaxation opportunities.
I like starting in Branson since it seems I need more energy as I visit such attractions as Silver Dollar City where I enjoy nice walks through the park taking in the live shows, arts & crafts shops, and just a few of the milder rides.  (The park begins to re-open in March.)   Their Showboat Branson Belle with their great food and spectacular main show experience with its live music, dancing, comedy, magic and a great way to see Table Rock Lake.
The newest of Branson's plethora of attractions is Aquarium At The Boardwalk. something I am looking forward to seeing.  Such elements as Submarine Adventure, Jelly Infinity Room, Waters Tunnel, Mermaid Palace, Amazing Rays, Coral Reef, and Touch Pool are offerings I want to dive into (figuratively speaking)!
From the glitz and the go-go-go of Branson, I drive down to the quaint historic village of Eureka Springs which is about 50 minutes away along beautiful highways.  Once I enter this city that time has forgotten, I feel my pulse begin to slow and my breathing become more relaxed because i have just entered the nineteenth century.  There are many places to stay in Eureka Springs and the entire city is on the National Historic Register.  Most of downtown is made up of century-old limestone structures housing great places to stay, to dine and to experience wonderful things to see and do.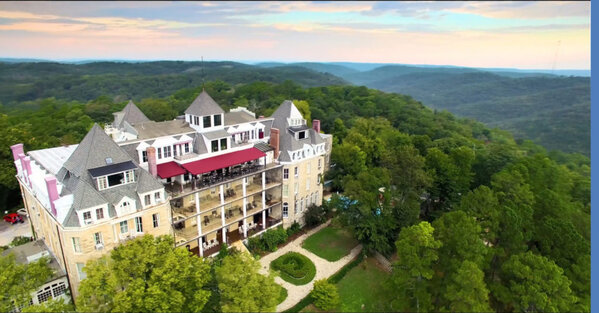 Favorite places I have overnighted in Eureka Springs are…
An Historic Hotel of America, is known as the "Symbol of Arkansas Hospitality".  It sits atop Crescent Mountain, one of the highest points in The Ozarks.  This mountaintop spa resort offers a daily schedule of resort events.  But if I just want to kick back, relax and watch the world go by, I request a room with a balcony.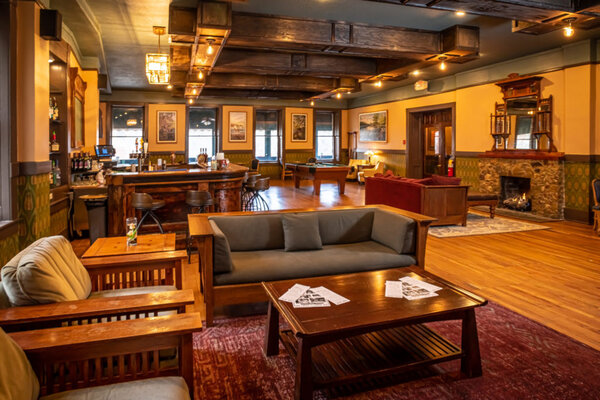 This hotel is in the center of Eureka Springs entertainment and shopping district.  I can walk out of the hotel's front door and be in walking distance of dozens of shops, galleries, restaurants and bistros… and i never have to get into my vehicle until it is time to go home.  They've recently opened Jack Rabbett's Whisky Bar which offers adult beverages in "living room" comfort.  It is awesome!
Restaurants I always seen to return to at least once during my Eureka Springs' stays are…
The Balcony Restaurant & Bar is located just above the lobby of the 1905 Basin Park Hotel.  Alfresco seating gives me an overlook of downtown and all of the people scurrying back and forth.  Their very complete menu gives me variety but trust me, they really do have the best burgers in town.
Local Flavor, also downtown, probably has the most haute cuisine when i feel like dining rather than just eating.  They too offer outside seating when the weather permits.
Cafe Amore is my stop for some great Italian food.  All of my favorites plus a nightly special takes me to the country shaped like a boot and it saves me airfare.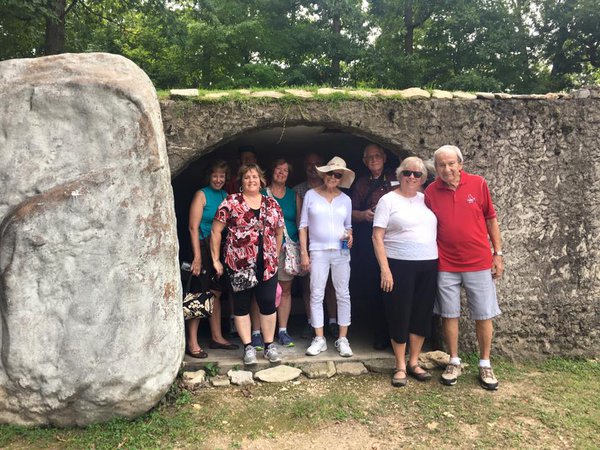 Some of my favorite places to see and things to do are…
Turpentine Creek Wildlife Refuge is the home to "big cats".  This family owned business is one of the nation's most respected perma-homes for rescued abused, abandoned, neglected lions, tigers, and other similar species.  Outdoor habitats allow these now happy animals a new life outside of a cage.
Hiking trails crisscross the city both in town and out.  Urban trails can be found just a few steps away from a sidewalk.  Other trails circle such outdoor venues as Lake Leatherwood and Black Bass Lake.  The majority of them are easy hikes which is important for older folks like me.
Even though I have experienced most of them, paranormal tours and ghost hunts are a trademark of Eureka Springs.  These include evening events -at the Crescent Hotel Ghost Tours and Basin Park Paranormal Investigation, plus a few others around town- not only have introduced me to the lesser known history of Eureka but to some of its former residents as well.
Eureka Springs has community wide transportation via their historic-looking trolleys (I love to sit in the seat all the way to the back).  Also, a few in-town hotels have shuttles which means I never have to get back into my SUV unless I want to do so when i want to travel around this village.
So, for this senior, the Southern Ozarks' destinations of Branson and Eureka Springs are my getaway dynamic duo… time and time again!