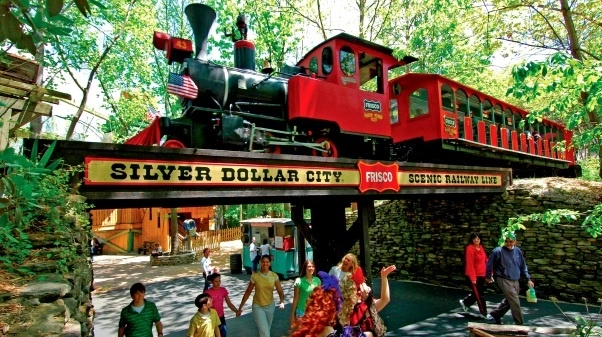 Silver Dollar City and other Nearby Day Trips from Eureka Springs for Kids
Let's not kid ourselves, Eureka Springs, Arkansas is the best place in the Ozarks to "basecamp" your family vacation.  Mid-week rates are down (often 30-45% less than on weekends), Crowds are down with no waits in restaurants or traffic jams and tensions are down with things just working with less stress.  Even though Eureka offers a vacation full array of family-friendly activities and attractions, you might look to expand your adventures into a multi-day vacation, using the money you save on travel and lets the kids hit a BIG Attraction.  No worry, you can leave the crowd and return to some sanity.  You'll be pleased to discover a variety of exciting day trip options just a short drive away.  
Basin Park Hotel  Silver Dollar City Deal
Crescent Hotel Silver Dollar City Partner Deal
Located just a short drive away in Branson, Missouri, Silver Dollar City offers a vibrant atmosphere, delicious food, and countless opportunities for fun for the whole family. This renowned theme park is full of thrilling rides, live entertainment, and interactive attractions that will leave your kids wide-eyed with wonder. From the high-speed roller coasters to the captivating shows and demonstrations, kids can watch skilled artisans at work, and even try their hand at various crafts. 
War Eagle Cavern (Rogers, AR):
Venture beneath the surface of the Ozarks with a visit to the War Eagle Cavern in Rogers. This fascinating natural wonder offers guided tours through stunning underground chambers, ancient rock formations, and the captivating history of the cave. Educational and entertaining, the tour provides an opportunity for kids to learn about geology, cave ecosystems, and the region's unique geological features. Stop for Lunch at The War Eagle Mill
The Promised Land Zoo (Eagle Rock, MO):
Just across the border in Eagle Rock, Missouri, the Promised Land Zoo awaits with its interactive and educational animal encounters. From petting zoos to a drive-through tour, your kids will have the chance to get up close and personal with a variety of animals, including bison, fallow deer, elk, antelope, camels, kangaroos, and more. The zoo offers an engaging and immersive experience that is sure to create lasting memories.
Located in nearby Bentonville, the Amazeum is a must-visit destination for families seeking hands-on learning and interactive fun. This children's museum is filled with engaging exhibits that encourage curiosity, creativity, and exploration. From tinkering with tools to experimenting with water, your kids will have a blast.  At Amazeum, children can engage in activities like building contraptions, experimenting with sound and light, and even exploring a canopy climber. The museum's emphasis on STEAM (Science, Technology, Engineering, Arts, and Math) learning ensures an educational yet entertaining experience for the whole family.  See Things to do with Kids in Eureka Springs.
Nature enthusiasts and adventure seekers will love a day trip to the picturesque Ponca/Buffalo River area. Just a short drive from Eureka Springs, this scenic wonderland offers endless opportunities for outdoor exploration. The Buffalo National River, the first designated national river in the United States, provides a stunning backdrop for activities like hiking, fishing, and wildlife spotting.  Take your family on a leisurely float trip down the river, immersing yourselves in the tranquility of nature. The Ponca and Buffalo River Region also boasts breathtaking hiking trails, allowing you to witness majestic bluffs, waterfalls, and diverse flora and fauna. It's the perfect setting for a memorable day spent appreciating the natural beauty of Arkansas.
Located in nearby Lampe, Missouri, Dogwood Canyon Nature Park offers an immersive outdoor experience that combines pristine landscapes with educational opportunities. This 10,000-acre nature park features hiking and biking trails, guided tram tours, and even horseback riding adventures.  Kids will marvel at the park's sparkling waterfalls, tranquil streams, and wildlife encounters. They can learn about conservation efforts, explore a treehouse built into the side of a cliff, or try their hand at catch-and-release fishing in one of the park's stocked ponds. Dogwood Canyon Nature Park provides a unique blend of adventure, education, and serenity that the whole family can enjoy.
Eureka Springs serves as a springboard for exciting day trips that offer enriching experiences for families with kids. So pack your bags, hit the road, and embark on these family-friendly excursions that will add an extra layer of fun and discovery to your Eureka Springs getaway.  See Places to Stay in Eureka Springs that offer  Mid-week family vacation Deals
Considering a visit?  See a Full List of Things to Do in Eureka Springs, Arkansas