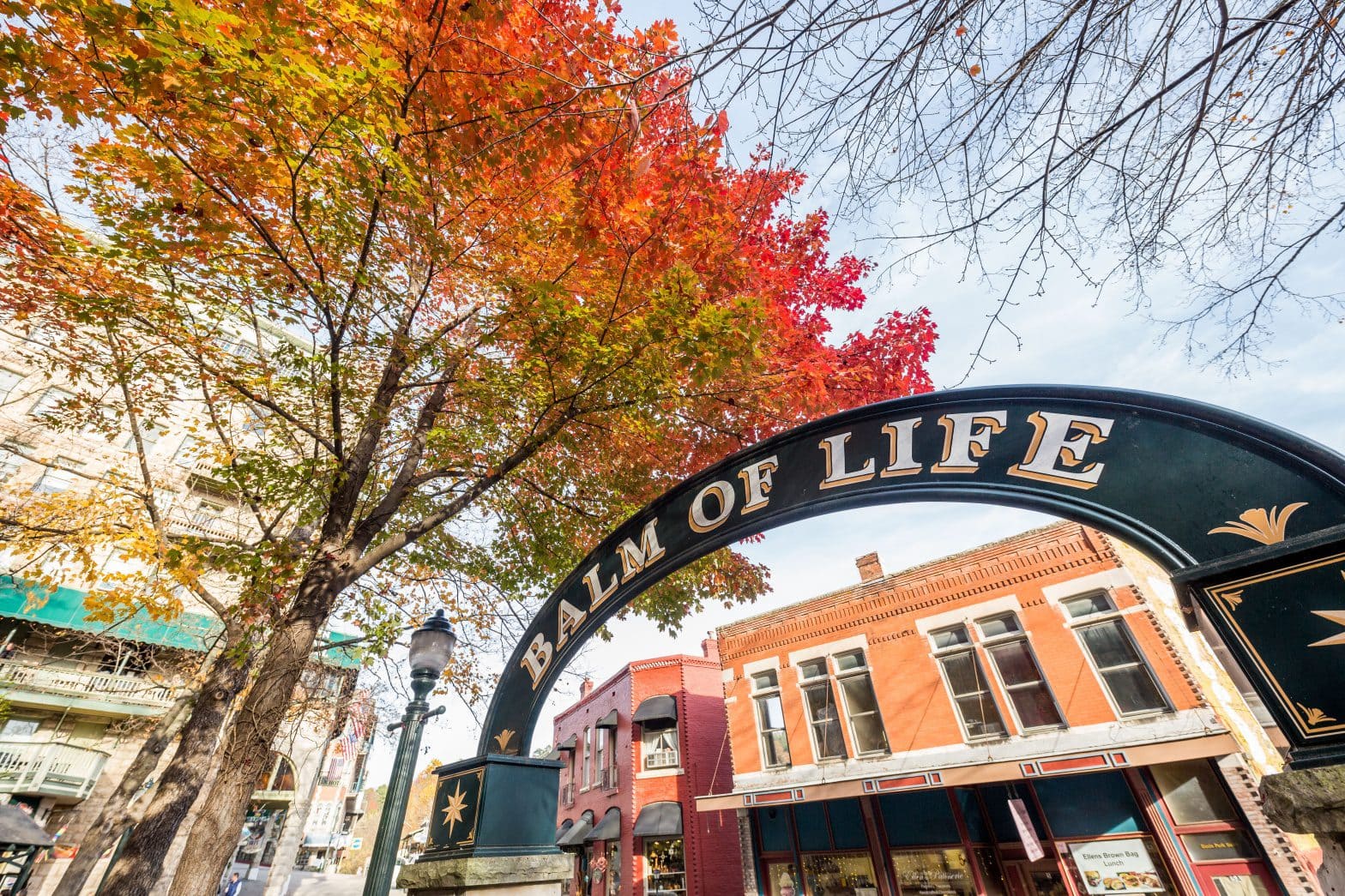 As the crisp and cool fall weather sweeps in, Eureka Springs, Arkansas, undergoes a stunning transformation into an autumnal wonderland that beckons to be explored. With its picturesque streets, lively festivals, and a plethora of activities, discover why Eureka Springs should be your go-to fall destination this year.
A Palette of Vibrant Arkansas Fall Foliage
Eureka Springs shines brightly during the fall season, thanks to its breathtaking foliage. The Ozarks Fall Foliage paints the landscape in striking shades of red, orange, and yellow, creating a mesmerizing backdrop for your autumn escape. Whether you prefer a leisurely stroll through the historic downtown, a scenic drive along picturesque byways, or an invigorating hike along forested trails, immerse yourself in the vibrant tapestry of autumn colors.
Discover Natural Beauty at Buffalo National River: A Perfect Daytrip[for Hiking Enthusiasts
For those seeking pristine wilderness and hiking adventures, the Buffalo National River is a must-visit destination near Eureka Springs. This protected natural gem offers a picturesque setting for outdoor enthusiasts with its scenic hiking trails and the opportunity to explore the stunning riverbanks. To reach this outdoor haven from Eureka Springs, take US-21S from Berryville and follow directions to Ponca, Ar.  In approximately 1 hour, you'll arrive at the Buffalo National River Region. Be sure to pack your hiking gear and camera as you embark on a memorable journey through the Ozark wilderness, surrounded by the awe-inspiring beauty of the river and lush forests. It's a nature lover's paradise that should not be missed during your fall adventure.
Eureka Springs' Enchanting Fall Festivals
Eureka Springs knows how to celebrate autumn in style. The annual Ozark Folk Festival, spanning several days in November, brings together a diverse mix of folk, bluegrass, and Americana music, ensuring a toe-tapping, hand-clapping good time for music enthusiasts. Join in the Oktoberfest festivities as the town fully embraces German culture, featuring live music, mouthwatering bratwurst, and, naturally, an abundance of beer. For those in search of unique souvenirs or holiday gifts, the War Eagle Craft Fair is an absolute must-visit. This event showcases the talents of hundreds of artisans and crafters, presenting their handmade creations in all their glory.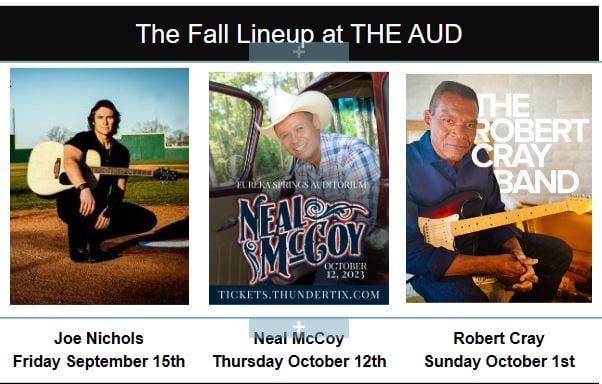 Eureka Springs' Live Music Extravaganza at The Auditorium
For music aficionados, Eureka Springs' Auditorium (affectionately known as The Aud) is the ultimate destination in the fall. Revel in captivating performances by renowned artists such as Neal McCoy, Robert Cray, and Joe Nichols. The Aud's exceptional acoustics and inviting atmosphere ensure that every show is an unforgettable experience.
A Culinary Journey Through Autumn
No visit to Eureka Springs in the fall is complete without savoring its delectable culinary offerings. The town's dining scene promises a genuine culinary adventure, boasting a diverse array of Eureka Springs restaurants catering to all tastes. From intimate cafes serving hearty breakfasts to gourmet restaurants offering exquisite tasting menus, Eureka Springs' dining options rival the diversity of autumn leaves in color and flavor.
An Eerie and Exciting Experience
For those seeking a brush with the paranormal, Eureka Springs, along with America's Most Haunted Hotel, offers an array of spine-tingling activities. Embark on ghost tours that lead you through haunted hotels, shadowy alleys, and historic buildings, where ghostly tales of the town's past come vividly to life. If you're a fan of magic and mystique, be sure to catch a spellbinding show at Intrigue Theater, where mysterious illusions and eerie stories are seamlessly woven together for an unforgettable evening.
Ozark Mountain Outdoor Adventures
Eureka Springs is a haven for outdoor enthusiasts, providing numerous opportunities for adventure. The town boasts an extensive network of trails, each offering a unique perspective on the breathtaking fall foliage. For those who prefer two wheels to two feet, mountain biking in Eureka Springs along rugged trails is an exhilarating option. Alternatively, you can experience the serenity of autumn by kayaking or canoeing on the tranquil waters of Beaver Lake or the White River. Don't forget to take a leisurely stroll through town, where historic streets are adorned with festive decor. The cooler weather ensures comfortable exploration, and you'll be rewarded with stunning vistas. The Hike House in Eureka Springs is your go-to resource for information on hiking in the Ozarks.
Looking for More Fall Adventures? Explore Branson, Missouri!
If you're eager to extend your autumn journey, don't miss the incredible fall activities in nearby Branson, Missouri. Just a scenic drive away from Eureka Springs, Branson offers a vibrant array of experiences for fall enthusiasts. Enjoy live music shows, immerse yourself in the beauty of Table Rock Lake, and explore the captivating wonders of Silver Dollar City's Fall Festival. To get there from Eureka Springs, simply take the US-65 S highway, and in approximately 1 hours, you'll arrive in Branson, ready to embrace even more of the season's charm.
Relaxation and Wellness in the Heart of the Ozarks
Eureka Springs offers a serene oasis for relaxation and rejuvenation. Rooted in its rich history as a healing destination, the town upholds a long-standing tradition of promoting wellness and serenity. Although direct bathing in the springs is no longer available, Eureka Springs boasts an impressive array of world-class spas and wellness centers that harness the therapeutic essence of the area's natural springs. Picture yourself unwinding with a soothing massage, indulging in a luxurious hot tub soak, or experiencing holistic treatments that nurture both body and soul.
Whether you're a music connoisseur, a culinary enthusiast, an art aficionado, or simply in search of a picturesque escape, Eureka Springs offers something for every type of traveler. So, prepare your bags and immerse yourself in the enchantment of autumn in this charming Ozark town. Your fall adventure is just around the corner!
Explore Places to Stay in Eureka Springs During Fall
Discover All the Things to Do in Eureka Springs