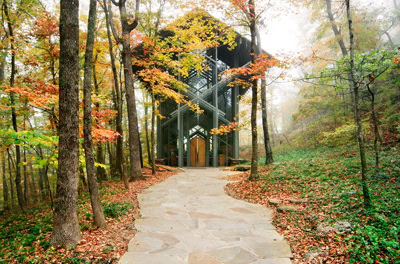 Thorncrown Chapel Marries Sacred Spaces with Nature for a Unique Eureka Springs Wedding.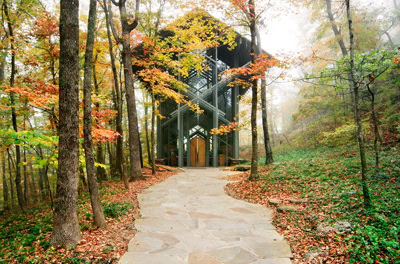 Nestled in the Ozark Mountains, Thorncrown Chapel is an intimate sacred space surrounded by lush woodlands. With 425 windows and 6,000 square feet of glass, Thorncrown Chapel is one of Architectural Institute of America's top designs of the 20th century designed by world renowned architect E. Fay Jones. This popular wedding ceremony location seats up to 100 guests.
Couples who marry in Thorncrown Chapel often hold their reception at one of Eureka Springs other iconic buildings, the 1886 Crescent Hotel. The Crescent Conservatory and Crystal Ballroom are premier wedding reception venues that can accommodate medium to large wedding parties. For smaller wedding parties, receptions on Sunset Terrace or the East Lawn are perfect.
Contact a Eureka Springs Wedding professional today by calling 800.903.4940.