Downtown Eureka Springs
But there is more to Downtown…

…that can be enjoyed at your pleasure and on your schedule
Here is a list of some Fun Downtown trip ideas to enjoy on your time:

Climb the Hidden stairs, Find the Hide-a-ways, and Mark the History Markers
Downtown Eureka Springs is the perfect place to Explore. Before there were cars, staircases were built to connect the town from Main Street to the Crescent Hotel. Along the way find one of 63 springs, a hidden lake, civil war cave or one of many trails that run alongside miles of rock walls and behind the many Victorian homes. Pay attention along the way and there are over 75 historic bronze markers on buildings, springs and other historic sites.
Snack to start, Dine In, and take a Dessert To Go.
One thing downtown celebrates is great food and beverage. A fun way to enjoy it all is to make your own progressive dinner and stretch dining over several hours. Lunch can be an in-town hike and picnic from Eureka Charcuterie then maybe an early glass of wine from the Stone House followed by a nice dinner at Local Flavor and end snacking on a late night Funnel Cake on the corner by Judge Roy Beans.

Paranormal Investigation of the Basin Park Hotel
Ghost Tours are Fun, but Ghost Hunts can be exhilarating. Offered Thursday through Sunday visitors to Downtown can investigate the Basin Park Hotel with a trained investigator and paranormal sensors. The tour runs behind the scenes and investigates the most haunted spaces.  The only way to see these Behind the Scenes spaces for just you and the Spirits left behind.
Open a Geode, stop for a board game, or Craft your own bead bracelet
One fun part of Shopping in Downtown Eureka Springs and its many unique shops is the option to Do It Yourself. Head into the Rock Shop to open a Geode, try before you buy at Gamemakers or get creative at Crescent Moon Beads by making your own bracelet with a friend.

Taste Whisky in a Cave or Star Gaze from the Crows Nest
Downtown's Full-Service Hotel, The Basin Park Hotel offers a full list of memorable Resort Activities for its guests that add to the memories formed during any visit. Jack Rabbett's Whisky Bar, sitting just above the Speakeasy Cave offers samples of its private Barrel of George Dickel Select;, the owner's wine collection is sampled each week and guest can see stars from the Crows Nest with the 10″ TrustTube Dobsonian telescope

Enjoy Brisk Morning Hikes, Coffee Stops, and Rooftop Yoga
Guests who wake early will find the streets empty, sidewalks clear and the brisk mountain air revitalizing. Coffee is ready by eight, morning stretch is regularly available and a One, two or the full three mile historic loop will get you going.
Pub stops and Listening Live
Music is always better in person. Fortunately in Downtown Eureka Springs with its twenty plus pubs and eateries music is also easy to find. Bounce from one to the next and discover the live music in Arkansas.

Shop OFFline – Have fun looking, have confidence buying
Shopping is Fun and supporting local makes you feel good about your purchase.  Couple that with knowing that what you are buying is the right size, right color, didn't get broken in the mail, arrives on time and is a unique one-of-a-kind  find what better reason can you think of Shopping Downtown Eureka Springs
Save the day by solving the puzzle at EscapeRoom13
For those who are great problem solvers and masters at the Game of Clue, Downtown Eureka Springs boasts one of the most challenge Escape Rooms in the Midwest. Escape Room13 has two puzzles to solve and a limited time to escape.
Climb the Rainbow – Taking pictures everywhere
Known as the Most Picturesque town in the Ozark Mountains, Downtown Eureka Springs has so many photo stops your phone might fill with data.  Don't Miss Humpty Dumpty and Save that one last photo as no trip is complete with a photo of the rainbow stairs climbing sharply upwards to the center of Downtown.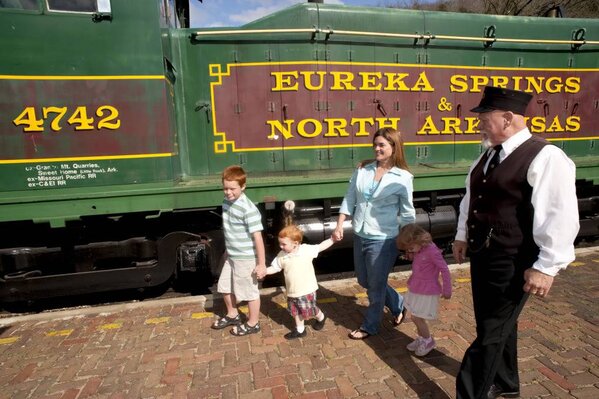 Ring the Bells and Ride the Train
At the North end of the Downtown District don't miss the Music Park for an easy way to blow off a little steam and make some noise, then cross the road to nostalgia as you visit the Eureka Springs Railroad Depot, steam engines and passenger train.
Put your feet up – Ride the trolley – Return to the Tub
A fun idea that you wouldn't expect is to hop on the trolley, prop up your feet and roll through town on a self guided adventure.  Its fun and a great way to see the whole town especially when it lands back at Spa1905.