Walking and Moderate Hikes around Eureka Springs
TRAVEL TIP: My Three Favorite Eureka Springs' Trails for Septuagenarians
            Eureka Springs, Arkansas is a great walking town, but when I turned 70, I had to wisely choose my footpaths in the environs of this historic Ozarks' village.  You will see that two of these "trails" listed below use the local transit system because I discovered early on (even at a younger age) that is easier to walk downhill and ride uphill.  With that in mind, here are my top three trails:
70's Trail #1 – I start this one at the 1886 Crescent Hotel & Spa which sits atop Crescent Mountain.  I arrive in time for a great, late breakfast (more like a break"feast", it's that good!) leaving my car in their parking lot.  I leave the hotel from their "back door", which used to be their front door when the hotel first opened.  I stroll past the New Moon Spa & Salon and down the cascading stairs to St. Elizabeth of Hungary Catholic Church.  The church's statuary greets me and leads me down to the chapel.  I always step inside for it is a definite "must see" and a great place for my start-of-the-day meditation.
I leave the chapel going back up to Crescent Drive then turn to the left.  Just a few steps away is Magnolia Trail.  This descending but easy trail takes you down through some beautiful nature.  And in a snap, I'm at Crescent Spring -one of the more than 60 local springs that gave this Ozarks village its national prominence in the late 19th century- and its charming gazebo that sits adjacent to one of the few Carnegie Libraries still in operation in America.  I'm now on Spring Street.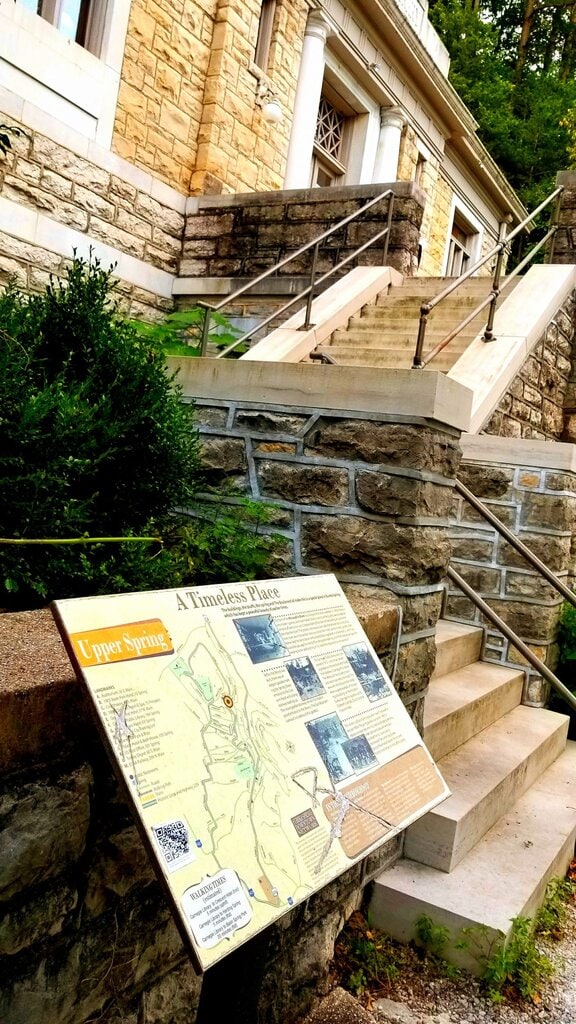 I stay to the right and continue on Spring Street.  This local "thoroughfare" takes me past numerous 19th century buildings, Harding Spring -glancing up for a look at "Lover's Leap".  Shortly thereafter is the quaint Sweet Spring cavern.  Once I pass the post office, I enter the magical world of Eureka Spring's shopping and entertainment district.  This is where I slow down my pace pausing to look into store windows, entering many shops, and purchasing some really unique "stuff" since there is not one chain store in downtown Eureka.
       Once I get to Basin Spring Park -site of the Eureka's first discovered healing spring- I pause, sit on a park bench and watch the world go by.  With a few more shops to go, I wind up at the Downtown Trolley Depot.  There I **catch the "red route" trolley that will take me back up to the Crescent Hotel.
Lunch Tip:  Balcony Restaurant – Try Eureka Springs Best Burger
70's Trail #2 – I drive to 137 West Van Buren and pull my vehicle into the huge parking lot of Eureka Springs Transit Welcome Center.  Once on foot, I begin my decent down Planer Hill (Main Street) back toward downtown.
My first stop -at the bottom of Planer Hill- is always the Eureka Springs Historical Museum, a marvelous little museum that truly takes me back a couple of centuries and gives me a feel of, a look at the early days of this well-known travel destination.  (I probably devote too much time in there, but I am a history nut.)
Just beyond the museum is a collection of restaurants and bistros that can not only take care of my hunger but my thirsts as well.  More shops -all the way back down to Basin Spring Park- welcome me inside.  If open on the way, I love to cross Main Street and take a peek into what banking used to be like, a feature of Cornerstone Bank-Downtown.  John Cross has preserved the history of his family's Bank of Eureka Springs. There I get to see furnishings, teller cages, pot-belly stove, etc. of the 19th century.
When I'm ready to head back to my vehicle, I return to the Downtown Trolley Depot and **hop aboard a "red route" trolley.  Even though it will back-track on scenery I have already seen, I get to see the beautiful homes along the Upper Historic Loop including Queen Anne Mansion -a gorgeous Victorian structure and resort- located just across West Van Buren/US Hwy 62 from the Eureka Springs Transit Welcome Center where my vehicle is parked.
70's Trail #3 – For this one, I get in my vehicle and leave "the city" and head west for Beaver Lake Loop Trail via Lost Bridge.  I take US Hwy 62 West for 21 miles to Garfield, Arkansas.  At Garfield, I turn left onto Ark Hwy 127 East, staying to the left for about 7 miles following the signs to Lost Bridge Park North. Trailhead parking is on the right after the entrance.  When I leave my vehicle, I take the trail south for about 1/2 mile; then loop around the campground and then head back north to my parking lot.  This sojourn is about a 1-mile loop and takes me to a maximum altitude of 1,187 feet.  When I feel like I still have some adventurous fuel left in this 70-year-old body tank, I continue on.  Upon leaving the campground's loop, I stay to the right and hike northeast -with a max altitude of 1,215 feet- to where beautiful Beaver Lake kisses the shore at the point of an inlet.  Once there, I skip a rock on the lake's surface, take in the beauty of the lakescape, and then return on the same route that got me there making the total hike around a 2 mile loop.
SEE MORE OUTDOOR TRIP IDEAS IN EUREKA SPRINGS
The trail is well marked and is rated moderate (which is important to me).  For those in better shape than this ol' guy, the full trail loop is 4.7 miles with lots of elevation changes and has strenuous sections to climb.  The highest elevation point is 1,423 feet.
**NOTE: I am always sure to check with Eureka Springs Transit to check on routes and route times since they often change throughout the year.