Eureka Springs Parking
If you are in for the day or just want to have your vehicle with you, there are several areas in town where parking is available .
Main Street Parking Route, Running from the Top of Planer Hill to the Eureka Springs Railway depot – this stretch of 2 miles have over 600 parking spaces including both City and private lots; THIS IS THE BEST OPTION TO FIND PARKING

Transit & Welcome Center, all trolleys stop here, $5.00 for all-day;
Planer Hill Park & Ride Welcome Center, $5.00 for all-day
Along Spring Street, City-operated parking meters; PassPort Payment
North Main, free City lot, on the Blue & Yellow Routes at Stop #73;
Pine Mountain Village, 2075 E. Van Buren limited free parking, on the Blue Route, Stop #53;
Great Passion Play, limited free parking, on the Blue & Yellow Routes, Stop #38.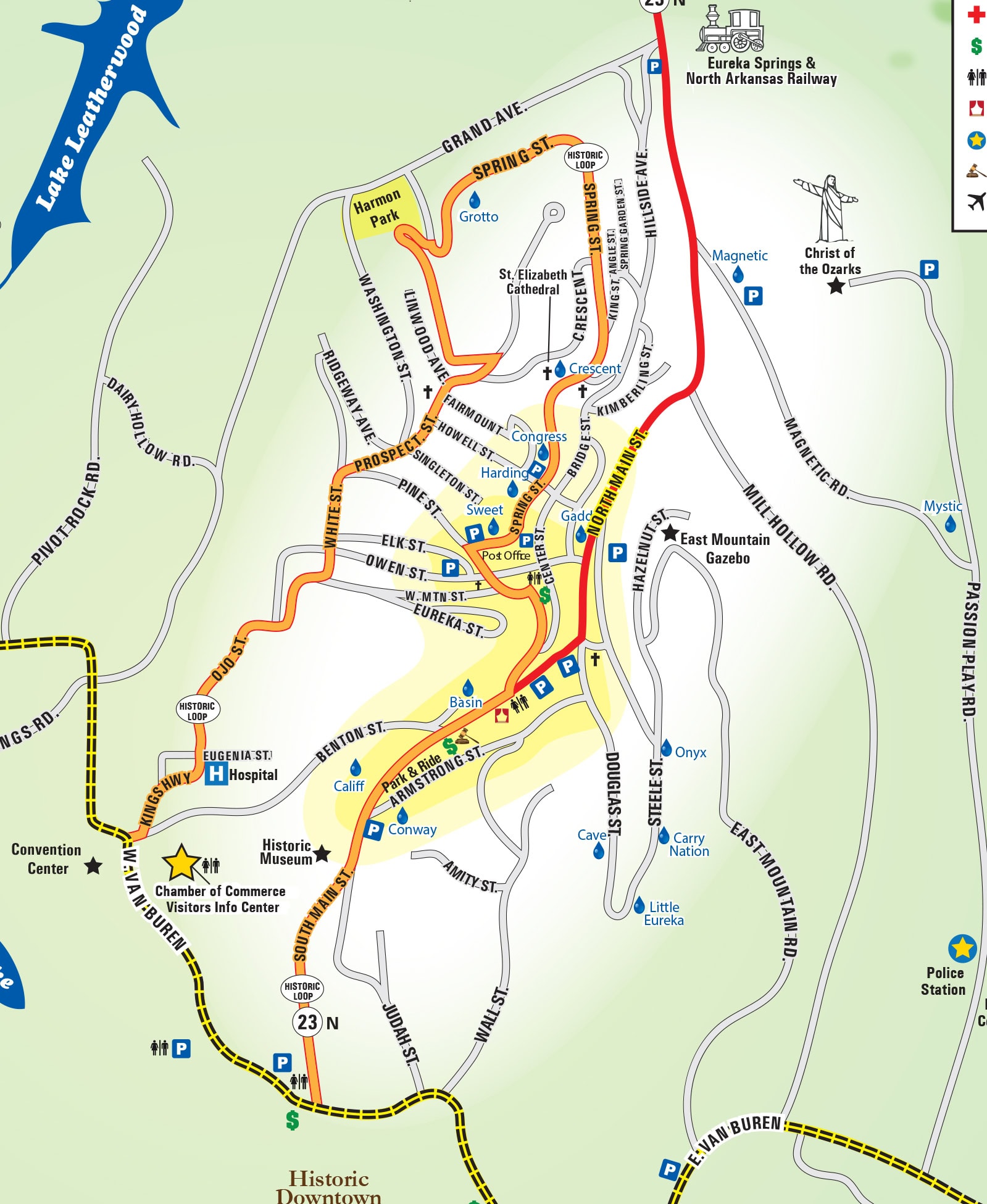 Map courtesy of Eureka Springs Chamber of Commerce.  Stop by the Visitor's Center at 44 Kingshighway for a copy!
PassportParking® app allows drivers to pay for parking on the go
Eureka Springs, Ark. (Aug. 1, 2018) — The City of Eureka Springs and Passport announce the launch of the PassportParking® mobile application in downtown Eureka Springs along Spring Street.  For the first time, locals and visitors in Eureka Springs can pay for parking with a mobile application.
The PassportParking app is available in all on-street spaces and parking lot spaces. Signage and decals are available to instruct drivers on how to use the PassportParking application.
In addition to being able to pay for parking through the app, users are also able to:
Extend their sessions remotely
Keep track of all parking history
Receive notifications
Get email receipts