Aching muscles, tension headaches perhaps feeling like it's time for a little me-time or perhaps some just-us time? Whether you crave renewal and rejuvenation or want to fine tune your overall wellness -treating yourself to a spa day in Eureka Springs is always a one of a kind experience. The plentiful natural springs and revitalizing fresh air of the Ozark Mountains  make the picture perfect spa setting.
With several Day Spas and Massage Services to choose from in our charming lil mountain town you can customize your tune up and do it your way. Whether you prefer to spend a day being pampered in one of our many day spas or just want to chill in your room and have the relaxation brought to you, it's all up to you. Perhaps you prefer to stop into one of our unique bath & soap boutiques and mix and match your own soaps, lotions and bath salts to delight the senses.
Here are just a few options for you to choose from:
The New Moon Spa Salon is a one of the the largest destination spas in Northwest Arkansas and the Ozark Mountains. Comforting, private spaces surrounded by the sights, sounds and smells of Crescent Garden create a rejuvenating environment year round. Come see us for a massage, facial, manicure, pedicure, waxing, teeth whitening, hair services, retail boutique and so much more! Feel relaxed, look beautiful, and be happy! New Moon is located on the garden level of the 1886 Crescent Hotel, a member of the prestigious Historic Hotels of America. Come experience The New Moon Spa where renewal awaits you!
Spa Weekend (2/23 & 2/24) 
SAVE $75 off any 2 Night Spa Package or $50 off any 1 Night Spa Package.
Call To Book: 877-342-9766
Photos by Scott Moore
Spa1905
is a cozy Day Spa located in the center of historic Downtown Eureka Springs, AR on the second floor of The Basin Park Hotel. Spa1905 offers a Day Spa as well as a Spa Boutique. The spa is designed with warm earth tones and featuring a sun deck, hot tub and mountain backdrop, this Day Spa features a full array of services and trained therapists with a focus on skin care and relaxation. It's you own private oasis in the very heart magical Eureka Springs! After experiencing the most fun downtown, stop and enjoy the most relaxation downtown!
Spa Weekend (2/23 & 2/24)
SAVE $75 off any 2 Night Spa Package or $50 off any 1 Night Spa Package.
Call to Book 877-643-4972
 Phone: 479-253-6756 
Grand Central Hotel's Spa offers a quiet, elegant stately atmosphere to relax and unwind. We invite you to relax, refresh and renew your mind body and spirit. Enjoy our specialty The Hawaiian Mana Lomi Massage utilizing hot towels and hot stones to communicate deep within the bones of the individual which allows the practicioner to connect to the soul of the person.
Grand Hotel & Sap sign photo by Scott More  Couple's Photo and description by eurekagrand.com
Healthworks takes the time to pamper you. Soothing music, aroma therapy, and negative ion generators in each spa room all enhance the soothing, nurturing experience. Aromatherapy massage techniques include Swedish, accupressure, polarity, and Reiki. Owners Scott and Bree Donna Thompson, both Master Massage Therapists, are joined by several of Eureka's massage therapists. Couples room available.
Description and photos by: http://healthworksmassagecenter.com/
The Palace Hotel & Bath House, built in 1901 and restored with extra attention to detail, is listed on the National Historic Register. Serving those with a taste for the finest in unique accommodations, the Palace Hotel is a non-smoking hotel and houses the only Victorian-era bath house still in operation. All suites have a king size bed, double size water-jet spa tub, wet bar, refrigerator, and TV. A luscious continental breakfast is served to each suite.In our historic bath house you can indulge in the soothing bliss of a whirlpool mineral bath, clay mask, and massage therapy, soak in original claw-foot tubs, and enjoy a eucalyptus steam treatment in the same wood barrels our world travelers used at the turn of the century. Staff massage therapists use the Swedish technique, with an emphasis on athletic massage. The most popular treatment at The Palace is The Works, which includes a whirlpool mineral bath, eucalyptus steam, a revitalizing clay masque and massage.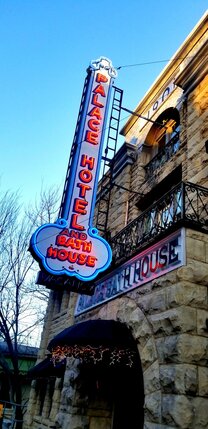 Photo by Scott Moore Description by: https://www.palacehotelbathhouse.com/
Phone (479) 253-2828
Suchness Spa offers signature new age services for psychosomatic wellness – massage, crown chakra energy work, Thai herbal treatments, facial, hands and feet rituals. Located on historic Spring Street in Downtown Eureka Springs you sure to find your center and fine tune your balance here!
 Photo by: http://suchnessspa.com/facial_ritual.htm
Suchness Spa Sign photo by Scott Moore
Phone: (479) 253-9696
Located in the very  heart of downtown, Bathe offers a one of a kind selection of high quality essential oils. Here you can mix and match oils to create your very own signature scents. Whether you infuse into bath salts, shampoos, lotions or even choose to create scented products for your pet, it's all here for your choosing! Don't miss out on this one stop treat shop for the senses!