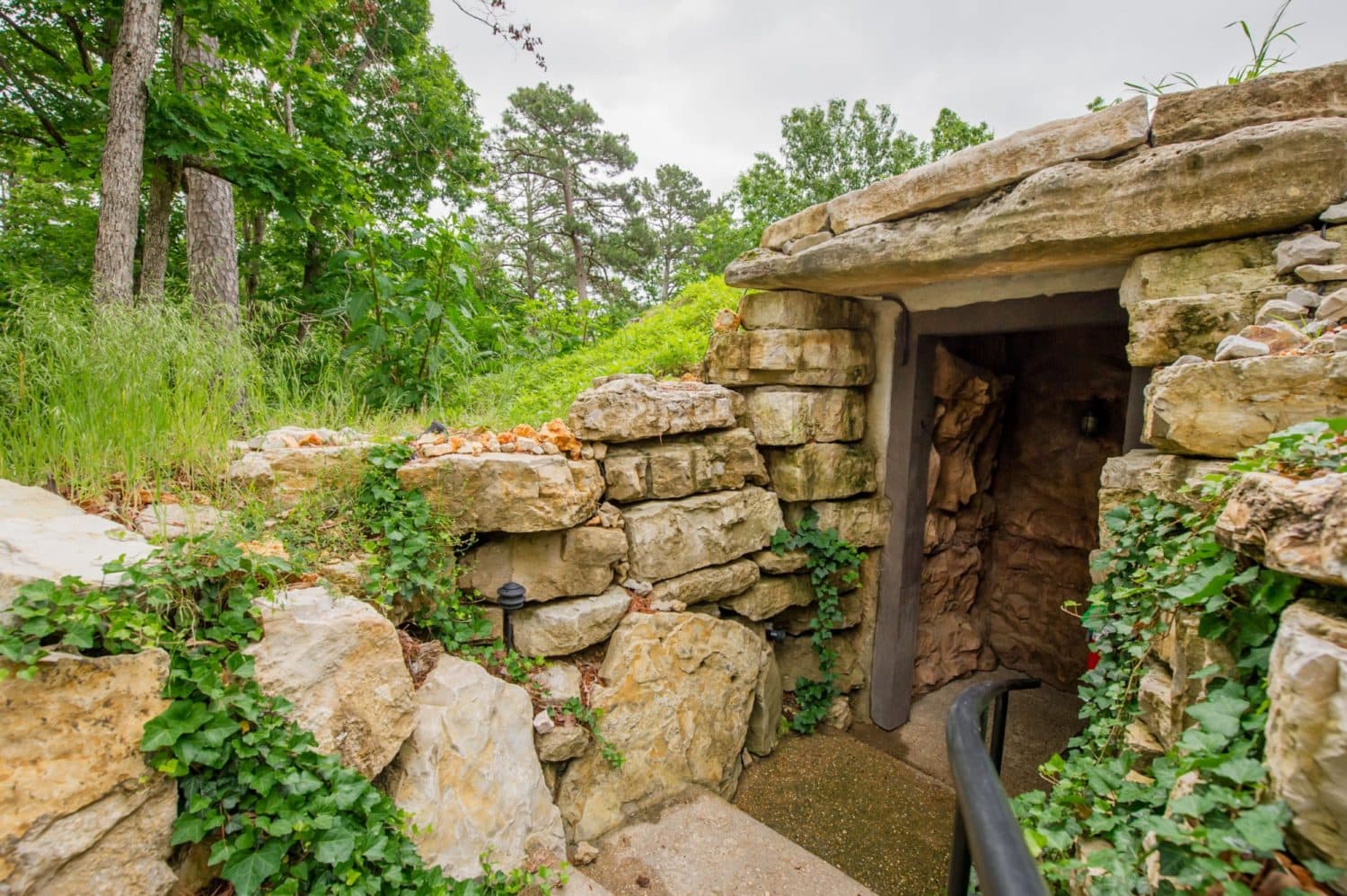 Did you know the Eureka Springs region has Caves of all kinds?
You can explore them, tour them, eat in them and even sleep in them!
In summer beat the heat, in fall avoid the rain and chill.  There is no better activity than exploring a cave when the weather turns.
We did the research and gathered the information for you to explore here.
Exploring…
Grotto Cave and Spring is a famous landmark in downtown Eureka Springs. It is located on upper Spring Street just below the famous Crescent Hotel. You can follow Spring Street up from downtown, winding through the residential streets until you see the cave opening on your left before the Eureka Springs Parks Office. The ES Parks do a great job landscaping the springs around town and the Grotto Spring is probably the most talked about of all. The Cave opening is accessible on the street side via a set of stairs. As you walk down to the spring and cave you will feel a temperature drop and see the cave that once housed several travelers looking for healing waters. Make sure you take a flash light with you so you can see how far the cave extends back in each direction.
The Civil War Cave is located in Downtown Eureka Springs behind the famous funnel cake stand. Make your way to the intersection of Spring and Main where you will see the red and white food stand on the southwest corner. In front of the fun building you will see a history plaque that will school you up on the civil war cave's history. When you are done reading turn around and head up the stairs behind you to the first landing. From there you will get the best view of the cave. Crazy to think that this cave was the first hospital available in the area during the civil war in the mid 1850's.
Cosmic Cavern was discovered in 1845, before the civil war cave, and was developed in 1927. Just a short drive from Eureka Springs, to Berryville, Cosmic Cavern is worth it. Known for its two bottomless lakes and the longest soda straw in the Ozarks. The cave remains a comfortable temperature of 64 degrees year round. They offer group, individual and Wild tours everyday 9 AM-5 PM.
Onyx Cave, the oldest toured cave in Arkansas, started its history in 1893. The cave tour includes a variety of wildlife and living formations. Offering more than just cave tours it is known to be a great place for family fun! Gem planning for adults and kids is offered outside in open spaces where you can discover over 20 different kinds of gems and take them home with you. Their newest adventure is axe throwing where they will teach you the skill and let you test it out yourself.
War Eagle Cavern– The largest cavern entrance and the only lake side cavern in Arkansas! It is also a family friendly atmosphere as they are stroller friendly, wheel chair assessable and pet friendly! On site you will find their multiple attractions that include, moonshine mystery shack, lost in the woods maze, gemstone panning, wild cave tours and a gift shop. Open 7 days a week with the last tour starting @ 4 PM.
Downtown Underground Tour– A way to see downtown Eureka Springs like never before. Stating in Basin Spring Park in the heart of downtown you will make your way up to Basin Spring and cave where you will view the original spring of Eureka Springs. The tour will then take you to the underground where you will view the tunnels that run underneath the streets of Eureka Springs. The tour also includes a backstage view of the auditorium and amazing history along the way. Offered 7 days a week @ 4PM.
Eating & Drinking….
Grotto Wood Fire Grill and Wine Cave offers a unique and romantic experience in downtown Eureka Springs. The restaurant is located in a historical building built on solid rock and the interior features a cave and spring that you can sit right next to. The food and drinks are a great complement to the atmosphere offered. Open Wednesday through Monday 5 PM-9 PM.
Nyx Restaurant is housed in a building listed on the historical registry and dated back as late as 1890's. It is built against a limestone wall and features a cave in the main dining room. The atmosphere does not stop there as they also have a three level deck against the same limestone wall where you can enjoy your meal under the stars. The menu is an electric American cuisine accompanied with handcrafted cocktails. Open Wednesday through Saturday.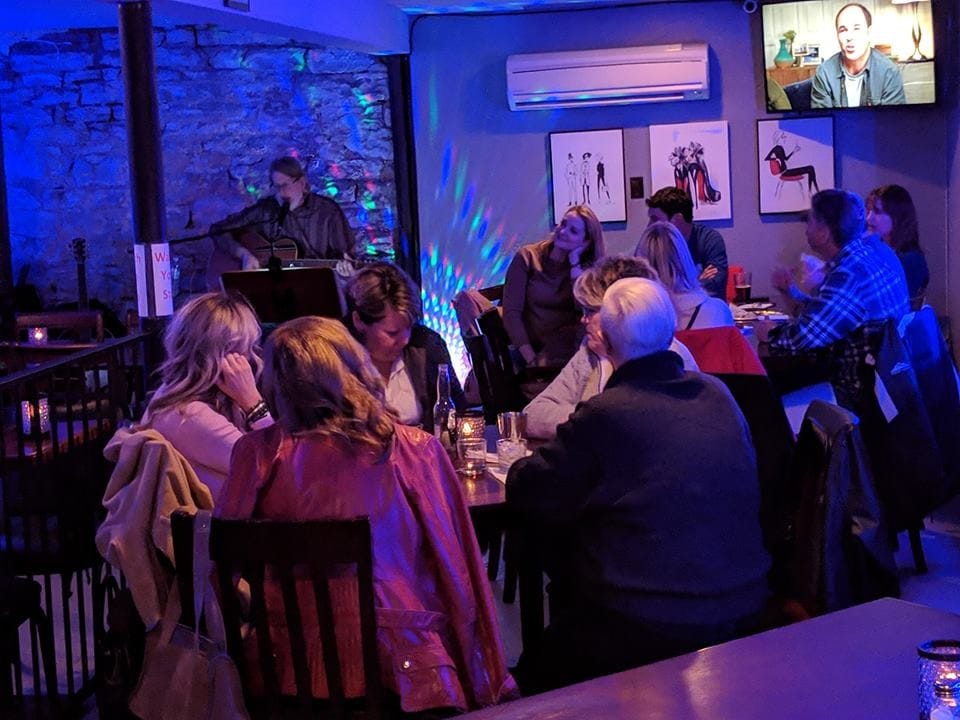 Basin Park Hotel offers guest activities that include exclusive Wine & Whisky tastings inside of their lobby cave! You begin your activity in Jack Rabbett's Whisky Bar and enter the cave through the Rabbett Hole! The wine is poured in a setting like no other. (see image above) Offered to guest only, so book you stay soon!  
Sleeping…
Eureka Springs Treehouse, Caves, Castles and Hobbits If you want to take advantage of this unique experience it is good to book in advance. It has proven to be popular to stay in a unique town of Eureka Springs as well as a unique location such as this, offering luxury hobbit caves for you to relax in. Please take note that this resort is adult only. If you do not see availability for your travel dates be sure to get on the waiting list.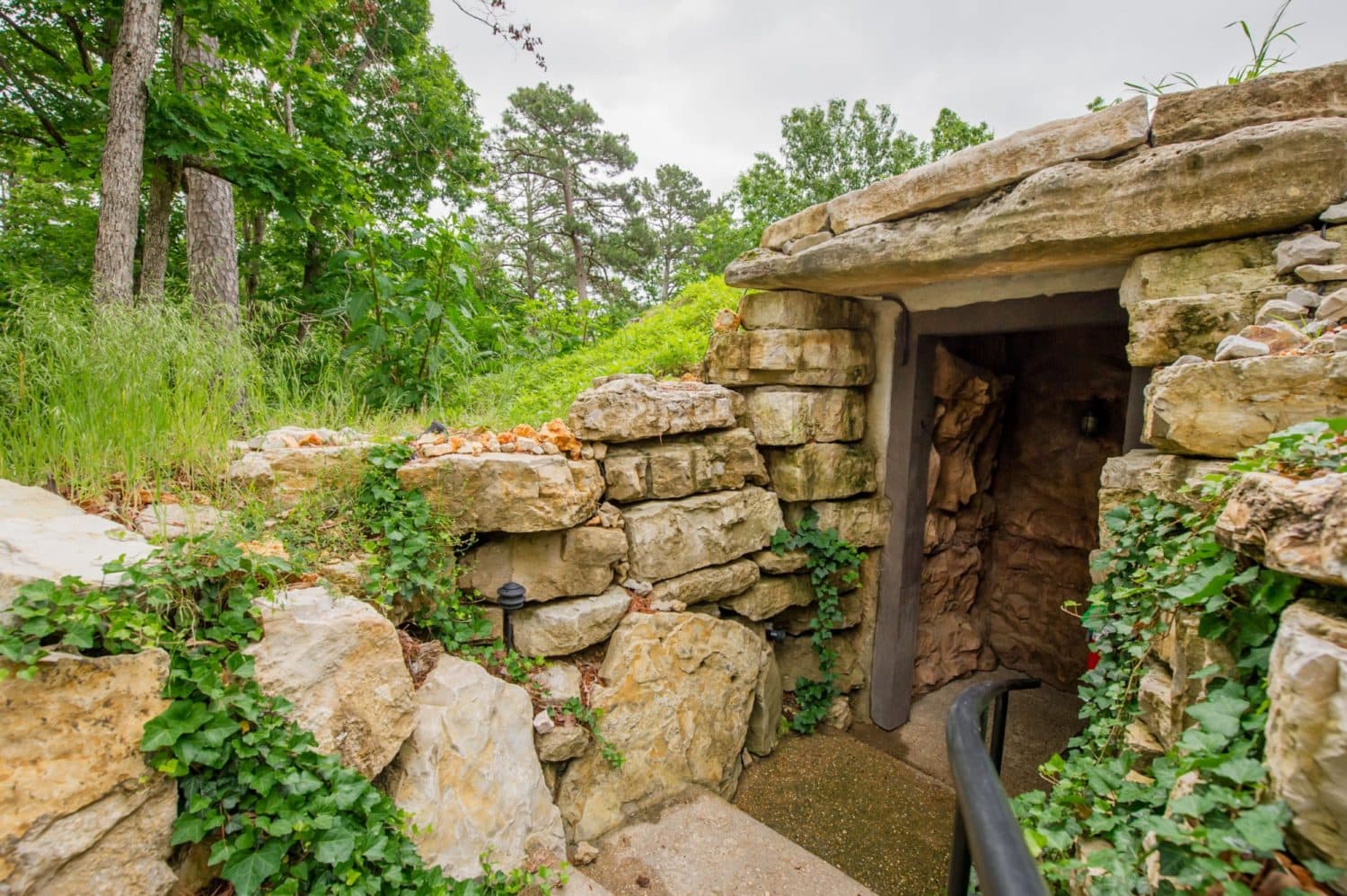 Happy Exploring, Eating and Sleeping!