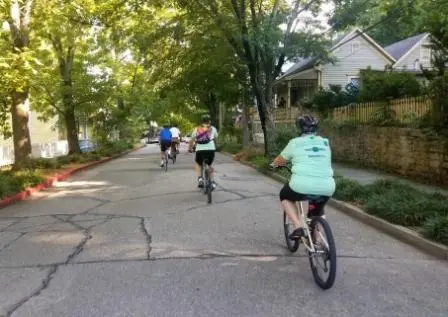 What's Happening This Summer in Downtown Eureka Springs
Downtown Eureka Springs offers something for everyone. From its architectural wonders to its vibrant arts scene, delectable dining options, and natural beauty, the town has a charm that is hard to resist. So pack your bags, and get ready to experience the magic of Eureka Springs this summer!
Immerse Yourself in Mystery and Adventure:
Step into the thrilling world of Escape Room 13, where you and your friends can test your wits and problem-solving skills. Engage in an interactive escape game filled with intriguing puzzles and riddles, as you race against the clock to unravel the secrets and emerge victorious. This immersive experience guarantees an adrenaline-filled adventure that will leave you wanting more.  Want more, just up Mountain Street is Intrigue Theater.  Selected as the BEST ATTRACTION IN EUREKA SPRINGS, this is a mind boggling memorable night.
Splash Party
On Tuesday and Wednesday, The Basin Park Hotel breaks out the sprinklers and lets the kids get wet.  Set-up in Basin Park listen for the screams of laughter.  The Basin Park Hotel has a full list of fun things to do with kids from the splash party to paranormal investigations to DIY adventures and Stargazing on the roof.  Check out More
Live Music and Great Food
Famous for its Blues Party Folk Festival and OzMoMu American music festival, there is more than just a few weekends of live music in Eureka Springs.  In fact there is live music Every Day in the summer at the hotels, buskers are common on the street and the clubs and restaurants are always active.  Live Music is Eureka Springs plus with over 80 restaurants that are owner operated you will not go hungry here.  See the Eureka Springs Restaurant recommendation list
Explore  Eureka Springs on Wheels:
Hop aboard one of the charming trolleys that roam the streets of Downtown Eureka Springs. These vintage-style vehicles provide a unique and leisurely way to explore the town's historic landmarks and scenic spots. Sit back, relax, and enjoy the ride. .
Explore Eureka Springs on Foot:
Find Jacob's ladder and come down Tibbs Alley. Discover Little Lake Eureka or the many hidden springs in the historic district.  Whether waking early for a brisk morning walk or window shopping in the evening, this little town has something to see at every turn and a placque or historical marker to bring you back to what once was.  Here is a list of Free things to do and places to discover
Indulge in Sweet Treats:
A visit to Downtown Eureka Springs isn't complete without stopping by Colossal Cupcakes and Cones. Prepare to be tantalized by their delectable array of freshly baked cupcakes, ice cream, and bakery treats. There's something to satisfy every sweet tooth
Delve into the Past:
For history enthusiasts, a trip to the Eureka Springs Historical Museum is a must. Immerse yourself in the town's past through engaging exhibits that showcase its notable figures and significant events. From Native American artifacts to Victorian-era memorabilia, the museum provides a fascinating glimpse into Eureka Springs' bygone days.
Melodies in the Park:
Experience live music in the heart of Downtown Eureka Springs at Basin Spring Park .On weekends musicians take the stage, filling the air with captivating melodies and rhythms. Grab a seat on one of the park's benches, relax under the shade of a tree, and let the music transport you to a state of bliss. It's the perfect way to unwind and soak in the vibrant ambiance of the town and watch the world go by. 
Fun Shops for the Kids
Moon Beads, GameMakers, Tee Rex, Two Dumb Dames, MoJo records, The Magic Shop are all in the Downtown District
Uncover the Paranormal:
For those intrigued by the supernatural, the Basin Park Hotel offers a spine-chilling experience with its Paranormal Investigation. Join expert guides as they lead you through the hotel's haunted corridors, sharing tales of eerie encounters and unexplained phenomena. With access to specialized equipment, you'll have the opportunity to conduct your own ghostly investigations, providing a thrilling and unforgettable evening. Find Eureka Springs Attraction Tickets on Reserveureka.com
Everyone Loves the Train
Moving Down North Main Street its a casual walk to the ES&NA railway.  Bring a snack and stop along the way at Magnetic Spring picnic are or the Music park.  Both have tables with seating available.
With its distinctive mix of mystery, history, tasty delicacies, and  entertainment, downtown Eureka Springs  is calling!
Travel Tip:  You can Save BIG Money and lessen traffic inconvenience by traveling Mid-Week.
Considering a visit?  See a Full List of Things to Do in Eureka Springs, Arkansas
---
Downtown Eureka Springs is surrounded by interesting people, sights and sounds 7 days a week in summer.
Less than One Hour to the Major attractions of Silver Dollar City, Pea Ridge National Military Park and Branson Missouri or the #1 Mountain Bike Trails in America – Monument Trails