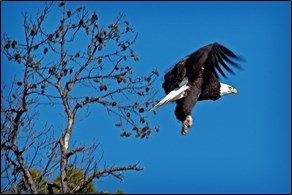 It's officially winter and school is back in session. This means the weekends leave the kids cooped up with little to do that doesn't involve a screen for hours on end.
Break the cycle and plan a trip to eagle watch at Hobbs State Park. A short drive from Eureka Springs, this park provides the perfect weekend outing.
Eagle watching tours allow you to see eagles of all ages as well as other wildlife with an unobstructed view from a seat on a 28-foot pontoon boat on the great Beaver Lake.
Check out all things Beaver Lake.
Bundle up, bring your binoculars and come check out the sights while learning from the tour guides. The tour covers the Van Winkle arm of the lake which many claim is the most scenic area of Beaver Lake as it is still undeveloped. This undisturbed paradise allows the animals to prosper. Red-tail hawks, deer, herons and more are frequently spotted on tours.
Find more park information here.
Leave the phones at home and come experience nature first hand.
Dates for the remaining tours are: February 4, 5, 11,13, 18, 19, 25, 26. Reserve your spot now.
Tours are approximately an hour and a half long and depart from the Rocky Branch Marina at 3 PM and reservations are required. Life jackets are provided and must be worn at all times. Adults $10.00 + tax. Children 6-12 $5.00 + tax.