Post from 2017
BB King Entertainer of the Year Headlines Blues Weekend '17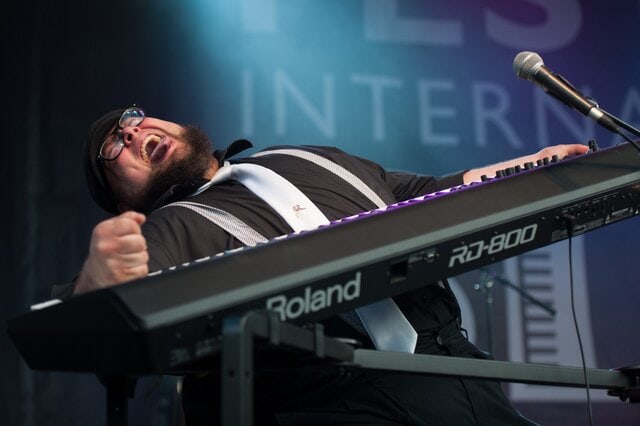 (Historic Downtown Eureka Springs, Arkansas) – Victor Wainright and WildRoots return to the Eureka Springs Blues Weekend as the BB KING Entertainer of the Year.  Wainwright, backed up by the Band of the Year, WildRoots will headline the late-night stages in Downtown Eureka Springs, performing in the Barefoot Ballroom of the 1905 Basin Park Hotel on Friday night, June 16, for two shows at 8 and 10 o'clock.    Price of admission also admits patrons to the "After-Party" in the hotel's Lucky7 Rooftop Billiards Bar for a "meet-n-greet" with the evening's entertainers.
Blues Weekend 2017, features music throughout Eureka Springs with a festival stage at Turpentine Creek Wildlife Refuge (TCWR) during the day on Saturday and Sunday, and late-night stages in Historic Downtown Eureka Springs Thursday through Saturday.
Highlights of Blues Weekend '17 include late-night, downtown performances at Chelsea's with Scott Ellison on Thursday, Josh Hoyer on Friday, and Patrick Sweany on Saturday.  Scheduled for a Friday sundown performance in downtown's Basin Spring City Park is Eric Gales.
BOOK THE BEST OF BLUES – FRIDAY NIGHT PACKAGE
Best of Blues 1 Night  (BASIN PARK HOTEL)  800-643-4972
Stay in a Jacuzzi Suite on Friday, June 16th for the Victor Wainwright show and receive 2 VIP Tickets.  $299 plus taxes and fees.
Festival Stage headliners include Toronzo Cannon and Fiona Boyes plus a full slate of performers at TCWR, all playing during daylight hours.
"A multi-day blues festival in Eureka Springs is a true tradition of fun times that has a proud history," said Jack Moyer, General Manager of the 1905 Basin Park Hotel, "and this year's kick off with Eric Gales in the park and high-energy Victor Wainwright and WildRoots in the hotel ballroom, will make this year's Weekend as much fun as ever."
           Wainwright is a Georgia-native but now a Memphis (TN) resident.  His capturing the coveted Blues Music Award for BB King Entertainer of the Year was no surprise since he is considered one of the most exciting piano performers on the roots music scene today.  He is known for his raucous, high-octane boogie-woogie performances.  American Blues News put it this way, "He is always entertaining and madly talented.  You will never see Victor play a room and not have it go over with the crowd in a big way.
"Wainwright is backed by the firepower of WildRoots, one of the tightest, smokin' bands around!"
Tickets to the Wainwright performances are limited and may be purchased in advance online at ReserveEureka.com.  Ticket prices are $15 per person in advance and $20 at the door.  Thirty VIP Seating tickets, per performance, are $20 in advance and $30 at the door.
The Eric Hales performance in the Basin Spring Park Bandshell is free and open to the public.  Ticket information is on ReserveEureka.com with a full schedule for Blues Weekend '17 performances at EurekaSpringsBlues.com.