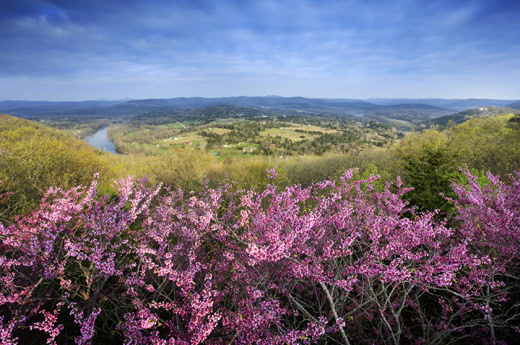 "Each moment of the year has its own beauty…every hour a picture which was never seen before… shall never be seen again." –Ralph Waldo Emerson
Inspired by the Hudson River School Art Trail, the Arkansas Art Trail takes visitors to places where art and nature come together. Threads of discovery, exploration and reverence for the American landscape weave compelling tapestries that illustrate the American experience … past and present.
The Arkansas Art Trail highlights unique architecture created with purpose and a seamless connection to the land. It stops for breathtaking vistas and wild rivers and introduces visitors to a side of Arkansas many may not have seen. The Trail celebrates Arkansas life through art, music, dance and literature in ways that are as enigmatic as the Arkansas landscape.
Visit the Arkansas Art Trail and discover for yourself moments of beauty "never seen before" as you explore the trails of the Ozark Mountains. Watch regional artists paint in plein aire or get creative with an art class. Enjoy the music of esteemed international musicians or sit down to an authentic hootenanny.  Experience life in a historic town or marvel in contemporary architecture that celebrates the beauty of the outdoors. Stop along the trail or just enjoy the scenic drive. The Trail has something to celebrate all year long.
Stops include significant sites like Thorncrown Chapel, Crystal Bridges Museum of American Art, Buffalo River National Park, Pea Ridge National Military Park and more.
The Arkansas Art Trail begins in Eureka Springs. With more than a dozen stops and side trips, the Arkansas Art Trail takes several days to explore. Centrally located, Eureka Springs lodging, fine dining, world class spas and eclectic shopping will impress you. Find great deals on vacation packages and last minute room rates on ReserveEureka.com.