Picture a place where parades are important, kites fly free, tigers and bears roar to greet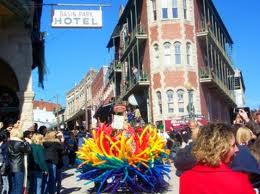 you, and a boundless number of secret places exist for you to explore.
Eureka Springs is a favorite place for family vacations where the amount of fun is only limited by your imagination. Lively, playful, and intriguing activities and attractions are waiting for you and your family this spring so march on over and join the fun!
Here are a few family friendly activities:
Walk on the wild side – Turpentine Creek Wildlife Refuge is home to lions, tigers, bears and more.
Photograph a ghost – visit America's Most Haunted Hotel and take photographs of the most haunted areas then look for orbs.
Zip through the trees – Eureka Springs Ziplines…well, its more fun than we can put into words.
Discover the "wild west" of Eureka – take the Hell Raisers, Hoodlums & Heated history tour to learn about bank robberies, the Doolin-Dalton gang and more.
Meet an Illusionist & a Medium- Intrigue Theater is one of the best shows you will see. This nationally acclaimed duo with intrigue the whole family.
Fun for the girls – Mom, take your girls to the spa. Catch up while you get your nails done. If it's the first time for her, let the spa know so they can make it extra special. Look for spa specials and save a little money too.
See more great Eureka Springs Attractions and find more things to do in Eureka Springs.