Top 10 places to grab a Glass Of Wine in Eureka Springs!
The Stone House
It only feels right to mention our wine bar as the first great spot to grab a glass of vino in Eureka Springs. The Stonehouse host several great wines, beer, meat, cheese, veggie and fruit trays. 
Jack Rabbetts Whisky Bar
Located on the 1st floor of the 1905 Basin Park Hotel in the heart of downtown Eureka Springs. Less than an year old, Jack Rabbett's is known for its private label with Dickel Whiskey but is slowing building its wine reputation as they release hand selected wines from the current owner-Roennigk's wine cellar. Currently serving Thursday-Sunday 2PM-10PM. If you are guest of the Basin Park Hotel there is an added bonus for you…free Wine Tastings throughout the week!
LaCena- 1886 Crescent Hotel
As the sister hotel to the Basin Park Hotel, The Crescent Hotel's newest addition- LaCena, a family Italian fare, is serving up a part of their owner- Roennigk's wine cellar as well as. With 12 foot ceilings and walnut walls the Crystal Dining Room is a must do for an instagramable glass of wine. Serving Thursday-Monday 4PM-8PM. (If you a guest of the Crescent Hotel enjoy a complimentary wine tasting Monday @ 4PM)
Grotto Wood Fire Grill * Wine Cave
One of the more romantic settings in Eureka for a glass of wine is Grotto Wood Fire Grill * Wine Cave. Located in a historical building in downtown with a cave and continuous running spring the atmosphere is for sure to add to your wine time. Serving Wednesday- Monday 5PM-9PM.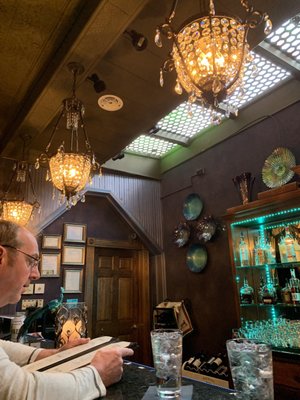 Le Stick Nouveau
A must do in Eureka Springs, Le Stick is located underneath the historic New Orleans Hotel in downtown Eureka Springs. Le Stick is known for their wine list and if it seems to be a little overwhelming for some the staff is very knowledgeable about what would pair the best with your entrée if you choose to dine in. Serving Wednesday-Sunday @ 5 PM.
Rouges Manor Restaurant
Known for one of the largest collections of wine and scotch in Northwest Arkansas this must see historical bar keeps over 100 bottles of wine in stock. The lounge opens early for a pre-dinner glass to be enjoyed by a waterfall that flows outside of the glass wall. Serving 3PM-9PM in the lounge and dinner starts @ 5PM.
Local Flavor Café
If people watching is one of your things, then Local Flavor Café is your spot. Most recognized for their balconies overlooking Main Street in downtown Eureka. Do not let the name mislead you for they have a large wine selection from all over the world available to enjoy outside over downtown or paired with a creative fresh dinner. Serving Monday-Thursday 11AM-3:30PM 4PM-8PM Friday-Saturday 11-3:30PM 4-9PM.
Wineries
Keels Creek
Since starting to produce wine in 2006, the local grown winery located just miles from downtown, has accomplished over 2000 cases of wine. The Keels Creek Winery has produced several award winning wines. Stop by their location to enjoy an art gallery and tasting room in a Spanish style building. Serving daily 11AM-6PM
Railway Winery
This unique location includes a setting that overlooks the vineyard itself at the base of the rolling Ozark hills. You can take a short scenic drive crossing over table rock lake to land you in this beautiful location to sip on a glass of wine. The very small locally owned farm vineyard produces a variety of wines that are offered in their tasting room or out on the patio to enjoy the view. The owners incourage you to bring a picnic to sit back and relax with. The tasting room is open Wednesday-Saturday 10AM-5PM and Sunday noon-5PM.
Cheers!