Are Craft Beer and Breweries your thing? Mine too!
There are a few things that make me happier than discovering a good local brew and hang out spot, with my pals. Lucky for all of us Eureka Springs now features Two local Breweries and is listed on the Ale Trail. Grab a beer and let's plan your next Brewery tour! 
Eureka Springs, AR is known for its historical picturesque downtown, , nature activities, mountain biking and now the newest on the list, it's local craft beer spots. Eureka Springs Brewery & Gotahold Brewery are both something to travel for. 
Eureka Springs Brewery – Eureka Springs 
Eureka Springs Brewery is located on 62 east just 5 miles from downtown. The taproom, a brand new build, features the brewing room and a full service bar. You will be greeted by an industrial style hang out space inside with board games and a big, full of fun, hang out space outside. The pine tree covered courtyard features lawn games and a 9 hole disk golf course for you beer enthusiasts to enjoy. Their offerings include small batch beer, wine, and cider. At times you can find a local food truck on site to enjoy with your brew. 
The beer itself is fresh, unique and delicious! The local brewery offers up to 5 plus different flavors at any given time. Their newest addition being a Raspberry Chocolate Porter. The taproom is open daily 12 p-8 p. As you spend the day playing in Eureka Springs be sure to ask for ESB on tap at The Balcony Restaurant, Brews and more. 
gotahold brewing Eureka Springs
Gotahold Brewing is the newest addition to Eureka Springs and a wonderful one at that. The brewery is located just 1 mile from downtown on Hwy 62 west and is a newly renovated space with an open feel. With the brew room right behind the taps, only separated by windows, you can view the process while ordering your next beer. The award winning brewer can be found in house either talking, tasting or brewing his most recent batch. Gotahold offers 7 unique brews including ciders, sours, dark and light brews.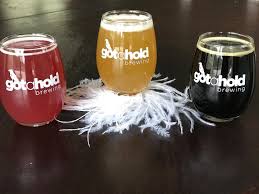 The taproom offers a wonderful hang out space both in and outside. The courtyard has lawn games, spread out seating, fire pits and a stage where they feature live music on the weekends. If you would rather have your beer delivered to your car, that is an option too. Online ordering is available through their website. The current hours you can find the tap room open are Thursday & Friday 4 p-7 p Saturday 12 p-6 p and Sunday 2 p –  6p. Although they offer taproom exclusives you can grab some of Gotahold flavors on tap at Jack Rabbetts Whisky Bar, The Balcony Restaurant, The Voodoo Lounge, Brews and Sparkey's Roadhouse!